Surfer, 68, dies after being found face down during huge swell off California coast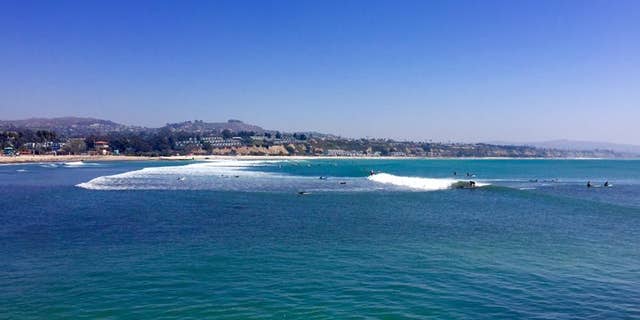 A surfer found floating face down in the water during a huge swell that rocked Doheny State Beach in Southern California died Tuesday, a report said.
Timothy Gray O'Connor, 68, of Dana Point, was identified as the victim, Orange County Sheriff's Office spokeswoman Carrie Braun told the Orange County Register. The cause of death hadn't been determined, but an autposy was expected.
Hundreds of surfers were in the area, battling to ride the waves as a swell setting off 6-foot waves crashed upon them, the Register reported.
"All of a sudden, I hear all these people screaming in the water," James Pribram, a former pro surfer, told the paper. "The type of scream when you know something is tragically wrong."
Officials told the paper via email that O'Connor was discovered floating face down in the water near a lineup of surfers waiting to catch a ride in the Pacific.
Pribram, along with his friend, Peter Prietto, and retired lifeguard Scott Diederich, paddled out and got O'Connor onto the back of Prietto's surfboard. The trio battled against relentless sets of the 6-footers as they brought the victim to shore, the Register reported.
"The ocean is always dangerous. I think the ocean is the most unforgiving place there is."
Once on shore, the men attempted to resuscitate O'Connor with CPR, according to CA Patch. Orange County Fire Authority paramedics rushed the victim to a hospital, where he was pronounced dead.
It wasn't immediately clear what happened to O'Connor during his surf session, or whether he had enough experience to handle that day's rough surf.
"Waves were big," Pribram said. "There's so many people learning to surf, there's boards everywhere and people who don't really know what they are doing. It can be dangerous. The ocean is always dangerous. I think the ocean is the most unforgiving place there is."