Supporters call for release of detained Honduran teen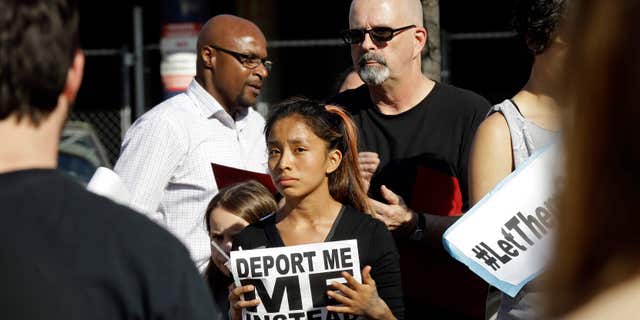 Supporters for a Honduran teen facing deportation said at a rally Thursday that he should be released from immigration officials' custody and returned to North Carolina to finish high school.
Wildin Acosta, 19, is being held in a rural Georgia jail. He attends Riverside High School and his lawyer was granted an appeal, which was filed on Monday, to temporarily prevent his deportation.
Teachers and students have rallied around Acosta since his detainment. Acosta and his supporters argue that he is risking death if he returns to Honduras where he fled in 2014 after a gang member threatened to kill him.
"I believe that his triumph will be that this year he will be able to graduate as a senior with me and all of the 300 to 400 classmates that he has," student Axel Herrea said as supporters held signs and chanted phrases such as "education not deportation."
Ellen Holmes, one of Acosta's teachers, told the Associated Press that he was awakened at 3 a.m. on Monday and told he was being deported even though the U.S. Immigration and Customs Enforcement granted a temporary order to prevent his deportation.
"Then they kept him detained and alone, thinking he was going to be deported for over 3.5 hours," she said. "I get asked every single day, 'where's Wildin? When's he coming back? What's going on with him, Ms. Holmes? What's going to happen?"
A spokesman Corrections Corp. of America, which manages the facility where Acosta is being held, said they are just following ICE's orders.
"When we receive instructions from ICE to carry out the transport of a detainee like that, we follow suit," CCA spokesman Jonathan Burns said. "And if at some point that instruction is canceled, we carry that out as well."
ICE spokesman Bryan Cox said the stay Acosta received pauses his deportation, while the immigration court considers the appeal.
Supporters said Acosta is one of about 800 teenagers who arrived in the U.S. as unaccompanied children and have been detained or deported by ICE since October. They also rallied in support of five other North Carolina students they say are being detained and threatened with deportation.
Two were in school in Charlotte and one each in schools in Greenville, Thomasville and Raleigh, organizer Ivan Almonte said. Three North Carolina teens have already been deported, he said.
Rodney Ellis, president of the North Carolina Association of Educators, said Acosta and the other five detained students "are not a threat to our schools. They should not be sitting in a jail cell. They should be in a classroom, not only learning about math or science but about problem solving and being a valued member and contributor to our society. "
The Associated Press contributed to this report.