Students across US stage mass walkouts in protest of Trump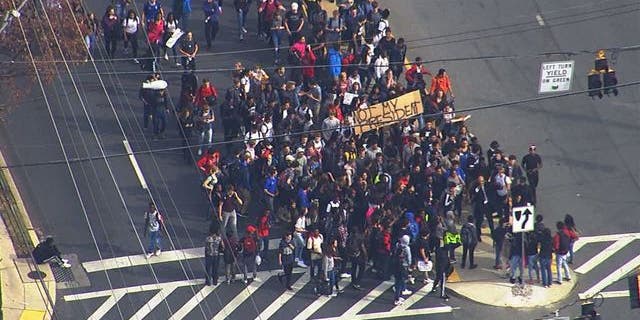 Middle school and high school students in states from California to Maryland walked out of classes Monday in the latest mass protests against President-elect Donald Trump, as officials in major cities pleaded for calm.
In Oregon, hundreds of Portland high school students who walked out of school marched to City Hall and then across a bridge to the city's east side. Many of them called for a peaceful protest, unlike the rioting Portland saw last week. City officials have said daily protests since Thursday have caused $1 million in damage and resulted in more than 100 arrests overall.
TWO ARRESTED IN OREGON SHOOTING DURING ANTI-TRUMP PROTESTS AS ELECTION TENSIONS GROW
Portland Mayor Charlies Hales said some of the protests were being used as cover for "outrageous, bad, criminal behavior."
Students from several Los Angeles schools marched to rallies at Mariachi Plaza and City Hall.
CALIFORNIA POLICE ARE TAKING ON COACHING ROLES TO KEEP KIDS ON PATH TO VICTORY
Organizers said protesters wanted to show support for immigrants, Muslims, gay people and other communities they claimed would be vulnerable under a Trump administration.
Police urged parents to discuss with their children the importance of expressing opinions in a lawful, safe and peaceful manner.
More than 100 students from several Montgomery County, Md. high schools staged their own walk-out Monday, Fox 5 reported.
Public Schools spokeswoman Gboyinde Onijala said many Montgomery Blair High School students attended a protest in the football stadium Monday morning and most returned to class -- but some left the Silver Spring campus.