String operation: FBI recovers violin virtuoso's long-missing Stradivarius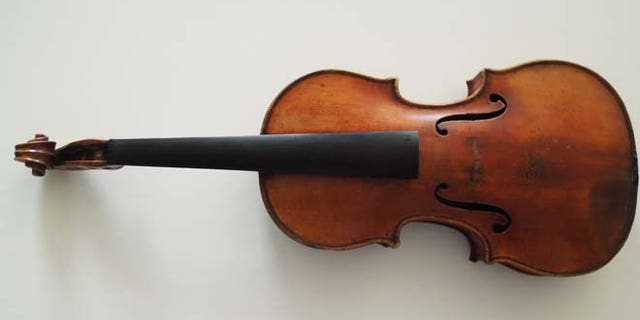 NEWYou can now listen to Fox News articles!
WASHINGTON – A Stradivarius missing since it was stolen from violin virtuoso Roman Totenberg following a 1980 concert in Boston resurfaced in New York, where an unidentified woman took it to be appraised, apparently unaware of its colorful history, the FBI said Thursday.
Totenberg, who was the father of NPR correspondent Nina Totenberg, said before his death three years ago at 101 that he thought he knew who stole his beloved instrument, but never had proof. The violin's case was later found in the basement of the Longy School of Music in Cambridge, Mass., where he taught. No arrests have been made and the FBI, which planned to give more details about the case at a Thursday news conference, said the unidentified woman who sought the appraisal is not suspected of wrongdoing.
Nina Totenberg said she first heard the vanished violin had been recovered when she got a phone call in June from an FBI agent. The agent said he was looking at the violin, which was in federal custody after the appraiser alerted authorities.
"I really could hardly believe it at the time," Nina Totenberg, the legal affairs correspondent for NPR, told The Associated Press in an exclusive interview Wednesday. "I said, 'I have to call my sisters. I'll tell them not to get their hopes up,' but he said, 'You don't have to do that. This is the violin.'"
The violin, known as the Ames Stradivarius, was made in Italy in 1734 by Antonio Stradivari and is one of several hundred Stradivarius instruments known to exist. They can fetch millions of dollars at auction, including a record $15.9 million in 2011.
The woman is the former wife of Philip S. Johnson, who died in California in 2011. She declined to comment to The Associated Press and asked that her name not be published, but Nina Totenberg related events as told to her by authorities.
"The appraiser looks at her and says, 'Well, I have some good news and some bad news,'" Ms. Totenberg said, according to The New York Times. '"The good news is that this is a real Stradivarius. And the bad news is it was stolen, 35, 36 years ago from Roman Totenberg, and I have to report it right away.' And within two hours, two agents from the FBI art theft team were there."
'To have it come back, three years after he died, to us, it's like having him come alive again'
Johnson's obituary described him as "a noted violinist of 40 years" but did not detail where or for whom he played. Totenberg said he was an aspiring violinist seen around her father's office at the time of the theft.
Totenberg said that, lacking evidence, police weren't able to obtain a warrant to search for the Stradivarius.
"There was nothing to be done, and eventually he just moved on and bought another violin and lived the rest of his life," she said.
A child prodigy in his native Poland, Roman Totenberg bought the Stradivarius in 1943 for $15,000 — more than $200,000 in today's dollars — and it was the only instrument he performed with until it was stolen. He kept performing into his 90s and taught at Boston University until he died.
"This loss for my father was, as he said when it happened, it was like losing an arm," said daughter Jill Totenberg, a public relations executive in New York. "To have it come back, three years after he died, to us, it's like having him come alive again."
The story of its theft and recovery is not uncommon for Stradivarius instruments, which are virtually impossible to sell on the black market, said David Schoenbaum, a retired history professor and violin expert who wrote a book called "The Violin."
Another famous Stradivarius, the Gibson, was stolen in 1936, and the thief, a journeyman violinist, confessed on his deathbed in 1985. It's now owned by violinist Joshua Bell.
A Stradivarius violin belonging to Erika Morini was stolen from her apartment in 1995 by someone who had a key to the locked bedroom closet where she kept it. Morini wasn't told about the theft before she died weeks later. The instrument has never been found.
The Ames Stradivarius had wear-and-tear that indicated it hadn't been professionally maintained, but it was in pretty good shape overall, suggesting it hadn't been played much, Nina Totenberg said.
Prosecutors don't plan to charge anyone in connection with the theft, Totenberg said, and the violin will be returned to the family. They plan to sell it, but not to a collector, she said.
"I'm just glad that the violin, once it's restored to its full potential again, will eventually be in the hands of another great artist," she said, "and its gorgeous voice will be heard in concert halls around the country."
The Associated Press contributed to this report