Strauss-Kahn Lawyer Calls Meeting With Prosecutors 'Constructive'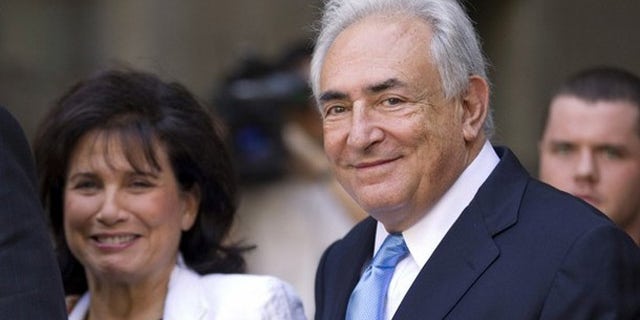 NEWYou can now listen to Fox News articles!
Defense lawyers for Dominique Strauss-Kahn met with Manhattan prosecutors Wednesday in talks that could result in sexual assault charges being dropped against the former chief of the International Monetary Fund.
Strauss-Kahn's attorney, Benjamin Brafman, told FoxNews.com that the meeting with Manhattan District Attorney Cyrus Vance was "constructive" but declined to elaborate on what was discussed.
"We had a constructive meeting with Mr. Vance and his colleagues," Brafman said after the meeting.
The Manhattan District Attorney's Office, meanwhile, told FoxNews.com that no decisions have been made in the case.
"The investigative process is continuing, and no decisions have been made," said Vance spokeswoman Erin Duggan.
Strauss-Kahn's legal team has said it is pushing to have charges dropped against Strauss-Kahn, who is accused of sexually assaulting a housekeeper at the Sofitel Hotel in Manhattan.
Just a few weeks ago, the New York case against Strauss-Kahn looked iron-clad but Manhattan prosecutors have since questioned the credibility of the accuser.
Physical evidence links Strauss-Kahn to the hotel maid but prosecutors are rethinking whether they can even go forward with the case after finding that the accuser wasn't truthful about her background and the aftermath of the alleged attack. But they haven't questioned her account of the encounter itself, at least publicly.
The details sketch out a legal conundrum: prosecutors who may still have faith in the accusation but not in the accuser's prospects of helping them prove it.
The Manhattan district attorney's office on Tuesday would say only that it was still investigating and had made no decisions about what to do. The charges, which include attempted rape, have not been dropped.
Authorities haven't concluded that no attack happened, but amid the revelations about the accuser's past lies, "the details are a bit more in doubt," said a law enforcement official who spoke on condition of anonymity to discuss internal decision-making.
Strauss-Kahn, meanwhile, has zero incentive to agree to a plea deal. His attorneys have said they would be able to prove the encounter was not forcible.
In Paris, the official receipt of the complaint from novelist Tristane Banon means prosecutors must now decide whether there is enough evidence to charge Strauss-Kahn in France.
Banon says Strauss-Kahn tried to rape her in an empty apartment during an interview for a book project, struggling with her on the floor as he tried to tear off her clothes. His lawyers have described the account as "imaginary" and say they plan to file a complaint accusing Banon of slander.
Her complaint faces a series of difficult tests in the French justice system and could be dismissed long before reaching trial. Prosecutors must decide first if her allegations would support a charge of attempted rape rather than the less serious crime of sexual aggression, an attack that does not involve an attempt to penetrate the victim.
In New York, the 32-year-old maid from Guinea told police that she went to clean luxury suite 2806 at the Sofitel Hotel on May 14 and thought it was empty. When she entered, a naked Strauss-Kahn emerged from the bathroom. They struggled; he yanked down her stockings and forced her to perform oral sex. She freed herself, spit out his semen on the carpet and left the room.
Experienced Special Victims Unit detectives interviewed her and determined her story was believable. Police pulled the diplomat off a jetliner bound for France, questioned him and arrested him. Arguing that he was a flight risk, prosecutors persuaded a judge to jail him without bail.
That started the clock ticking for the prosecution. By law, officials have about 120 hours to indict someone or release him or her.
Not seeking an immediate indictment risked giving Strauss-Kahn an opening to return to France, which does not extradite its citizens. The decision was, in effect, to indict now, secure a steep bail and ask more questions later.
To Fordham University Law School professor Jim Cohen, prosecutors had little choice. While some fraud and other complex criminal cases are investigated extensively before an arrest, when a person credibly reports that a violent crime has just happened, an investigation may well have to follow an arrest, he said.
"We have a system that, we think, has a lot of procedural safeguards, but sometimes people do get damaged," he said. Still, "this is a case that got, maybe, the right result because they investigated sooner rather than later."
With Strauss-Kahn under house arrest in a $50,000-a-month Tribeca townhome, prosecutors and defense lawyers dug deeper into the accuser's life.
After DNA evidence was returned that showed Strauss-Kahn's semen on her work clothes, his attorneys answered with the first hints of what would become the case's crucial issue: They had potentially damning evidence against the accuser that would undermine her credibility but didn't specify what.
Meanwhile, prosecutors were developing questions of their own.
In a June 9 meeting, Strauss-Kahn's accuser told them she had lied on immigration paperwork about her experiences in Guinea, according to a second law enforcement official who spoke on condition of anonymity to discuss matters not made public in court. The fabrications included an account of being gang-raped, prosecutors said later.
Upset by the meeting, the woman wouldn't meet with prosecutors again until June 28, the official said. By then, they had learned that other people had deposited tens of thousands of dollars in her bank account -- money she said she knew little about but authorities suspect may be tied to drug dealing, the second official said.
At that point, the official said, the woman also said she had had misrepresented what she did immediately after Strauss-Kahn's alleged attack. Instead of fleeing his suite to a hallway and waiting for a supervisor, she went to clean another room and then returned to clean Strauss-Kahn's before reporting the encounter, prosecutors said later.
The next day, the official said, prosecutors got a transcript of a recorded telephone conversation she'd had the day after Strauss-Kahn's arrest with a man incarcerated in Arizona on a marijuana charge. She mentioned on the call that Strauss-Kahn had money, according to the first law enforcement official.
Two days after that, prosecutors disclosed some of their findings -- including that the woman had claimed someone else's child as her own on taxes -- in court. Strauss-Kahn was freed from house arrest.
But some experts say the blow to the case is not her fabrications -- it's that she lied to the very people tasked with prosecuting her case, and particularly that she lied about a sexual assault.
"Nobody has compromised this case but her," said Linda Fairstein, former head of the sex crimes unit in the Manhattan district attorney's office. "The prosecution was doing its job. You have to know as much about your witness as the best defense attorney has found out. And that's what they started to do. They didn't wait six months. They started work immediately."
"The witness doesn't have to be a saint, she just has to be honest," she said.
The woman's lawyer has said she's made mistakes in her life but is telling the truth about her encounter with Strauss-Kahn.
"I think the district attorney should stand by the victim. Her account hasn't changed one bit as to what Dominique Strauss-Kahn did to her inside the room," her attorney, Kenneth Thompson, said Tuesday.
She wants to testify at a trial, despite the questions that have been raised about her credibility, he said.
The case also has become a stark reminder of the difficulty of prosecuting sexual assault cases. Fairstein said the physical evidence alone isn't enough -- a jury must believe the accuser's version of events.
"People have preconceived ideas about rape, and who can be raped and who can't and I've seen it in the dialogue about this case," she said. "'He's a pig and a womanizer,' or `I understand she's a big woman, how could he have overpowered her? He didn't have a weapon.' There are attacks on all directions on what is an intensely personal accusation."
FoxNews.com's Jana Winter and the Associated Press contributed to this report.