Strapped Houston schools spent $1.2M to erase Confederate names
A cash-strapped Texas school district where teachers turn to the web to raise money for basic supplies incurred an unexpected expense this year: $1.2 million to change the names of eight schools that previously honored Confederate leaders.
The Houston Independent School District, which enters the fiscal year with a $95 million deficit, voted last spring to strip the schools of the names of Confederate generals Robert E. Lee, Albert Sidney Johnston and Stonewall Jackson; Confederate President Jefferson Davis; Confederate Postmaster General John H. Reagan and Confederate soldiers Dick Dowling and Sidney Lanier.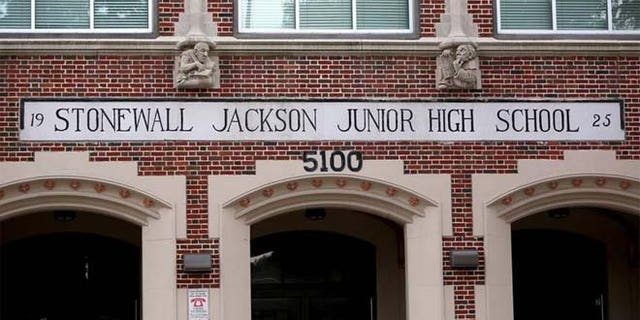 "We have a school district that is broke -- without libraries and in desperate need of repair -- yet we're going to spend $1.2 million to re-name these schools?" said Wayne Dolcefino, president of a communications firm hired by parents and families opposed to the re-naming. "At the end of the day, if we can't figure out that every penny we have should be spent to prepare our children for the future rather than litigating what people did 150 years ago . . . we're in trouble."
Among the changes, Lee High School was renamed for longtime Houston educator Margaret Wisdom and Jackson Middle School was named for Hispanic community activist Yolanda Black Navarro. The changes were made in time for the Aug. 22 start of the new school year.

In addition to the Houston schools, two buildings in Austin and Dallas shed rebel-linked names in time for the school year, leaving at least 24 that still bear the names of Confederates, according to The Associated Press.
In Houston, some of the opposition, from both parents and teachers who spoke to FoxNews.com on the condition of anonymity, was not based on the merits, but simply the expense. The school district has faced cuts in administrative and tutoring positions as it grapples with the yawning budget gap.
One HISD eighth-grade teacher told FoxNews.com of colleagues setting up accounts on money-raising websites like GoFundMe and DonorsChoose in order to provide their students with basic classroom supplies and materials.
"Teachers are lacking funding," the teacher said. "The printer in my classroom was funded by people who donated to my page on www.donorschoose.org."
The 213,000-pupil district did not explain why it would cost an average of $150,000 per school to re-name them.
"By their nature, the costs associated with re-naming the schools are not known precisely when the decisions were made," read a statement from the district.
Dolcefino obtained the cost breakdown, which is an estimated $1,256,197 and includes replacing athletic uniforms, paintings and facilities, band uniforms and plaques around the campuses.
HISD Trustee and Criminal Defense Attorney Jolanda Jones defended the board's position, telling FoxNews.com that it is a matter of principle, not simply cost.
"The arc of the moral universe is long, but it bends towards justice," Jones said, using a quote often attributed to the Rev. Martin Luther King Jr. "When those that don't value all human beings complain about equity, they always bring up money  -- yet if it's for the advantaged class, it's always about what's best for our children and what is a 'basic need.'"
The district is 62.1 percent Hispanic; 24.5 percent African-American and 8.4 percent white.
The Houston Federation of Teachers told FoxNews.com that while the organization has decided not to weigh in on this argument, the re-naming process could have been done at a better time for the community.
"It's unfortunate that this is happening now when we're having this massive budget crisis," HFT President Zeph Capo said. "My personal opinion is that this is being driven by emotion and not necessarily strategic thinking."