Stoneman Douglas students arrested for knives, deputy suspended for sleeping on job
Two Marjory Stoneman Douglas students were arrested for knives, another student made online threats and a Broward County sheriff's deputy was suspended Tuesday at the Parkland, Florida, high school where 17 people were killed just over a month ago.
Two students, identified as Jordan Salter, 18, and Gavin Stricker, 17, were arrested on weapons charges, the Sun Sentinel reported, citing the sheriff's office.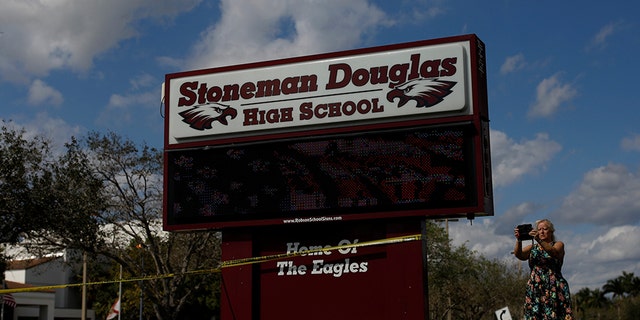 Meanwhile, Broward County Sheriff's Deputy Moises Carotti was spotted sleeping in his car on Tuesday while he was supposed to be patrolling the perimeter of the school's 1200 building — the location of the mass shooting, one of the deadliest in modern U.S. history, reports said.
Salter reportedly poured a bowl of cereal on the head of a boy who asked her a sexually offensive question, and then pulled a two-inch black knife from her bra.
PARKLAND SUSPECT NIKOLAS CRUZ'S BROTHER BRAGGED ABOUT THEIR POPULARITY, PROSECUTORS SAY
Stricker was reported to law enforcement after he allegedly flashed a knife on a school bus Monday. He reportedly pulled the nine-inch knife from his backpack when he was called into a school office.
A third Stoneman Douglas student, identified only as a sophomore, allegedly posted photos of himself with a gun in his pants waistband on Snapchat, along with pictures of bullets, the sheriff's office said in a news release. Both photos included threatening messages and called out someone named "Josh," according to officials.
The student, who faces a misdemeanor charge for the threats, was hospitalized for a mental health evaluation under Florida's Baker Act.
Following the arrests, Florida Gov. Rick Scott requested in a letter to Sheriff Scott Israel and Superintendent Robert Runcie that "immediate action be taken to require an armed law enforcement officer to secure every point of entry" of the high school "while students are on campus."
"Recent events at the school have demonstrated the need for additional security measures to be implemented," Scott wrote, according to WFTS. He said parents had contacted his office regarding safety concerns.
SOME OFFICIALS WANTED STONEMAN DOUGLAS SUSPECT NIKOLAS CRUZ COMMITTED IN 2016, DOCUMENTS SHOW
A student reportedly saw the sleeping deputy around 5 p.m. and reported him to a sheriff's office sergeant, who knocked on the car window to wake him up, WSVN reported.
Carotti reportedly was suspended with pay pending an internal investigation.
Florida Sen. Marco Rubio called Carotti's alleged actions "so outrageous it's almost impossible to believe."
"Of all the schools in America, you would think this would be the safest one right now," Rubio said in a statement.
The string of incidents came the day after Zachary Cruz — brother of suspected gunman Nikolas Cruz — was arrested for trespassing on Stoneman Douglas property.
Cruz, 18, "unlawfully" skateboarded throughout the campus on Monday. He told officials he wanted to "reflect on the school shooting and to soak it in."
While trespassing usually carries a bond of only $25, Cruz's bond was set at an unusually high $500,000. Both Cruz brothers are being held at the Broward County Jail.
Fox News' Mike Emanuel and The Associated Press contributed to this report.