Stoneman Douglas band finds healing through music at Carnegie Hall
Just three weeks after the worst high school shooting in U.S. history, members of the Marjory Stoneman Douglas High School band traveled to New York City to perform at Carnegie Hall.
The school's elite wind symphony was chosen last June to participate in the prestigious Wind Band festival at the famed concert hall. The performance took on new meaning for the students who lost 17 of their classmates and teachers in the school massacre.
"Music is the thing that holds us together and allows to express, in the most pure way that we can," senior percussion player Ryan Lewert said.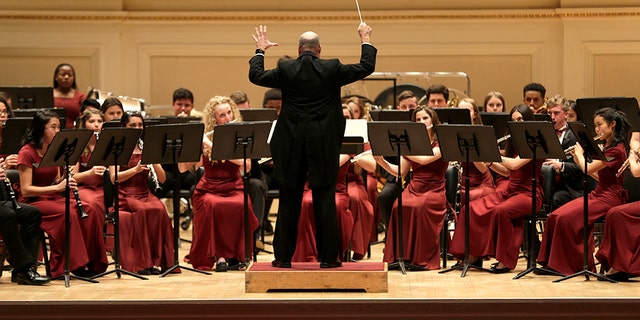 It was a stirring performance on Tuesday at the New York City concert hall. Some band members were seen crying on stage after they performed at Carnegie Hall.
Most of the 54-member symphony group survived the shooting together hiding inside the band room just feet away from the freshman building where the shooting took place. Alex Kaminsky, the band director for three years, guided the students through the terror that day. His son Ethan was in the band room, as well.
"It definitely gives this trip a new meaning … now we're playing for people that we've lost," the 15-year-old trumpet player said. "I just want to show that music can overcome anything. The feeling you can get from hearing a song or playing a song is something that can't be described. And it really can help in any situation."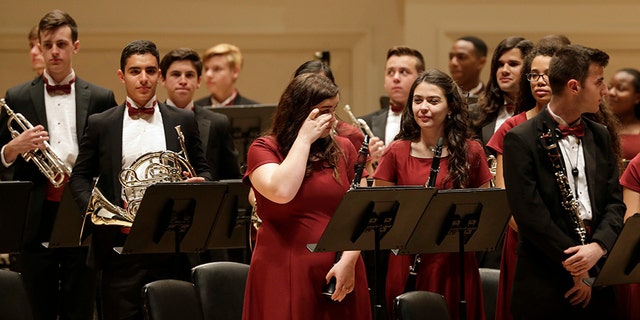 The band lost two members in the shooting. Alex Schachter, a 14-year-old trombone player, and Gina Montalto, a 14-year-old color guard member.
Kaminsky said that since the shooting, the band is playing differently.
"There's something that they're infusing into their music-making that you can see even in their body language and through their eyes," the band director said.
"From the very start, I saw what the music was doing to them. And to their souls. In a positive way. I could see it in their demeanor. As soon as they started playing their instruments — and for me too, as the conductor — the music-making began and it took us to a different place: a happy place."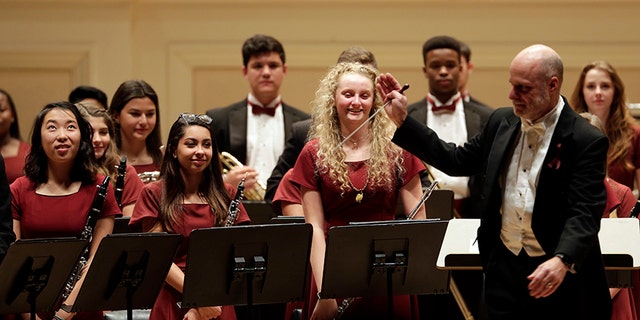 Two of the students now sport tattoos in honor of the Valentine's Day shooting. Daniel Journey rushed to the tattoo parlor the next morning to get a tattoo on his inner bicep with the name of his childhood best friend, Joaquin Oliver.
"I was originally going to put it on my heart, because Joaquin's always going to be in my heart," Journey explained. "But I wanted to read it every morning. So I wanted to turn over in my bed and look at Joaquin's name and see that he's always with me."
The senior bassoon player says he now plays for him.
"I feel so many things, just coming out of me when I play music" now, he said.  "I've cried when I play. It's tough but moving forward, all I have is happy memories of me and him, you know? And all our friends in that group only have happy memories. We never sit and cry anymore. All we do is laugh."
Fox News' Tara Prindiville contributed to this report.