Steve Bannon invited to speak at UC Berkeley -- but will it happen?
Former chief White House strategist Steve Bannon has been invited to speak at a University of California, Berkeley, event organized by political provocateur Milo Yiannopoulos.
Whether it will actually happen is another matter, given Berkeley's reputation for hostility toward conservative guests.
Yiannopolous brokes the news about Bannon on his YouTube page. The event is dubbed "Berkeley Free Speech Week" – an apparent bid by Yiannopolous to razz Berkeley, which was home to the Free Speech Movement in the 1960s.
"He's the voice of a nationwide rebellion. The man who terrifies globalist and leftist culture warriors like no other. Steve Bannon joins MILO at Free Speech Week," the video's description reads.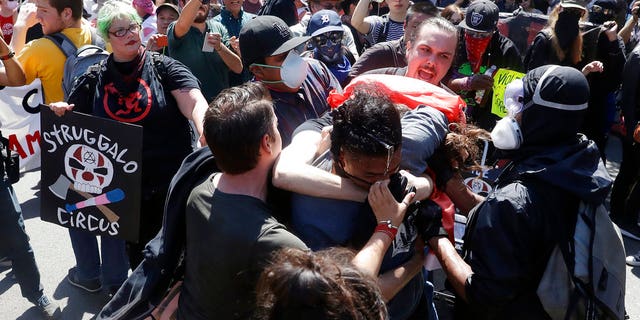 NEWYou can now listen to Fox News articles!
A conservative student publication organizing the event, The Berkeley Patriot, confirmed that both Yiannopoulos and Bannon agreed to speak at some point during the four-day event, the New York Times reported.
The announcement came following a revelation that Yiannopoulos recently met with Bannon, whom he calls "Uncle Steve," according to a Breitbart Radio show on which he appeared Friday.
"Berkeley Free Speech Week" is set to begin Sept. 24. The city has become a key battleground in free speech wars, where free speech activists often clash with black-clad Antifa activists attempting to shut down conservative speakers or events.
Last February, Yiannopoulos' scheduled speech was canceled due to a threat from a radical left-wing mob of around 150 people that attacked the event attendees, smashed windows, threw rocks and started fires. The violence prompted President Donald Trump to threaten to pull federal funds from UC Berkeley.
"If U.C. Berkeley does not allow free speech and practices violence on innocent people with a different point of view — NO FEDERAL FUNDS?" he tweeted.
Despite criticism, the city of Berkeley continued to struggle to contain the violence at protests – often seeing attacks on peaceful protesters – as the police accused of being reluctant to tackle the violent Antifa agitators.
On Tuesday, in an attempt to ensure safety, the Berkeley city council reportedly ended a 20-year ban on police officers using pepper spray on violent protesters.
Besides Yiannopoulos and Bannon, conservative firebrand Ann Coulter is also scheduled to attend the event, although the organizing student publication has not yet confirmed the names of other speakers.
A Coulter speech scheduled in Berkeley in April was canceled in part because of concerns about possible violence, USA Today reported.
A spokesman for the student group told the Times that it could not at that time reveal the names of the other speakers because the group was "still working with the university and law enforcement to finalize our itinerary."
UC Berkeley spokesman Dan Mogulof said the organizers have not yet submitted the information or forms required to ensure the events occur, telling the Times that "they just have not completed any of that."
"This is all about providing to them the security they want and we want to offer for their events, and it can't happen overnight," he added, noting that a speech given by conservative Ben Shapiro on Thursday requires the university bring in "a huge number" of police officers and "spending hundreds of thousands of dollars."