Steer gets a taste of freedom after escaping butcher shop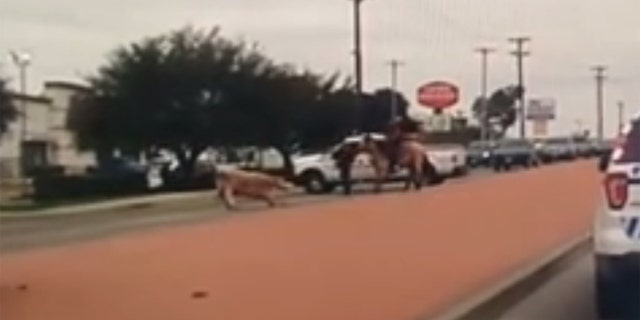 NEWYou can now listen to Fox News articles!
A steer made a run for its life after a escaping a butcher in the Parker County town of Weatherford, Texas -- the "Cutting Horse Capital of the World."
The bovine escaped from the Hamilton Meats Butcher Shop last Thursday and roamed busy streets and evaded capture from police and animal control services for nearly two hours. Police say it even rammed a patrol car.
The steer almost made it home free until it ran into a couple of cowboys on horseback. Blake Davies and Justin Farber managed to rope down the steer in the middle of a busy street near Taco Bell and returned it to the butcher.
"I just did what I had to do," Davies told the Weatherford Democrat. "I just run up there and thank God everybody stopped and seen me coming. I come blowing out that intersection right there towards at Walmart ... I was going fast and so was that cow."
The Weatherford Police Department posted the dashcam video of the determined bovine on Facebook and has gotten more than 6.2 million views.
No injuries were reported.
Story first appeared on FOX 4 NEWS.