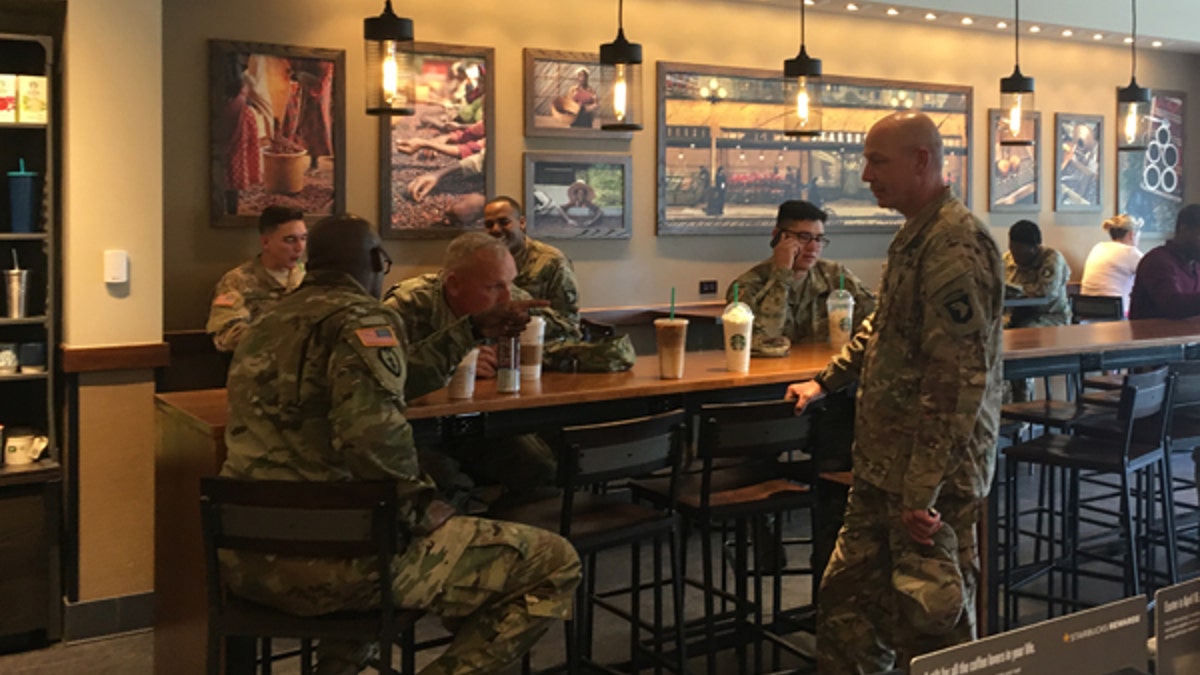 At the Starbucks on Fort Campbell Boulevard in Clarksville, Tenn. -- two miles from the U.S. military base -- store manager Shannon Feltz pours hot coffee for a group of veterans seated at a communal table.
On a shelf next to the register are rows of green-and-white mugs reading: "Proudly serving those who serve."
On Tuesday, the Clarksville store became one of 37 around the country designated by the coffeehouse chain as "Military Family Stores" -- stores staffed primarily by veterans and military spouses as part of a larger effort to employ service members and their families nationwide.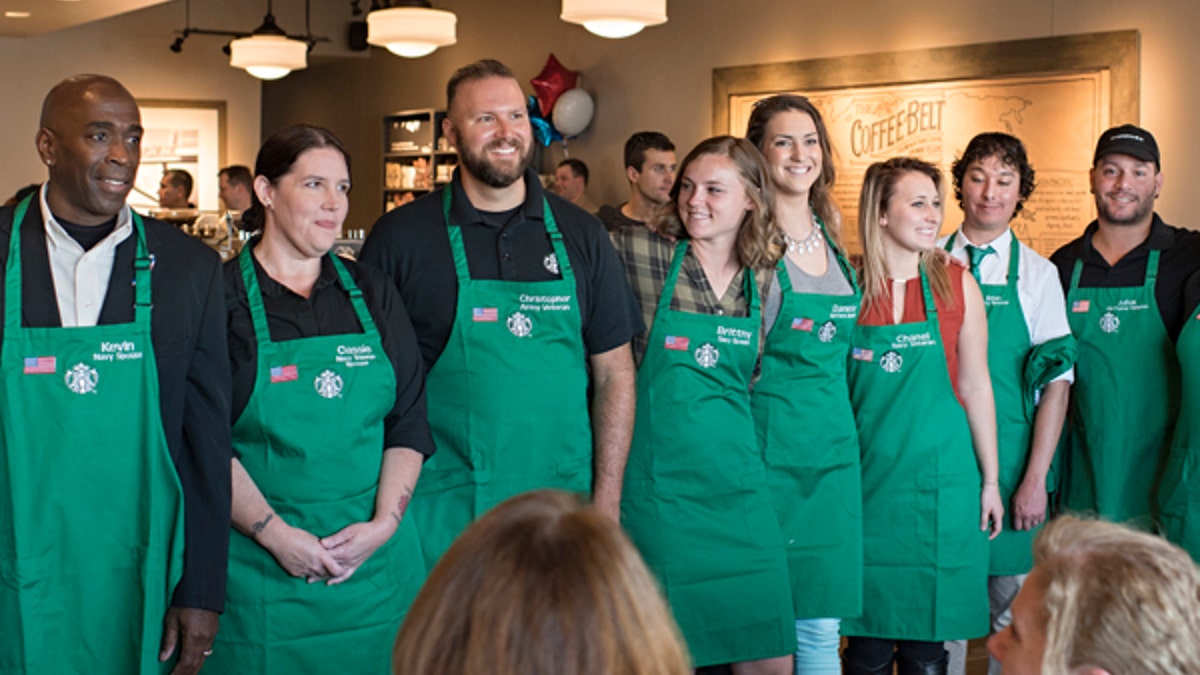 "Seventy-five percent of my business is the military," said 47-year-old Feltz, a 14-year military spouse whose husband is a staff sergeant in the U.S. Army.
"We are so excited about this announcement," Feltz told Fox News.
Of the corporate Seattle-based coffee giant, Feltz said, "I've never felt so supported by a company in my life."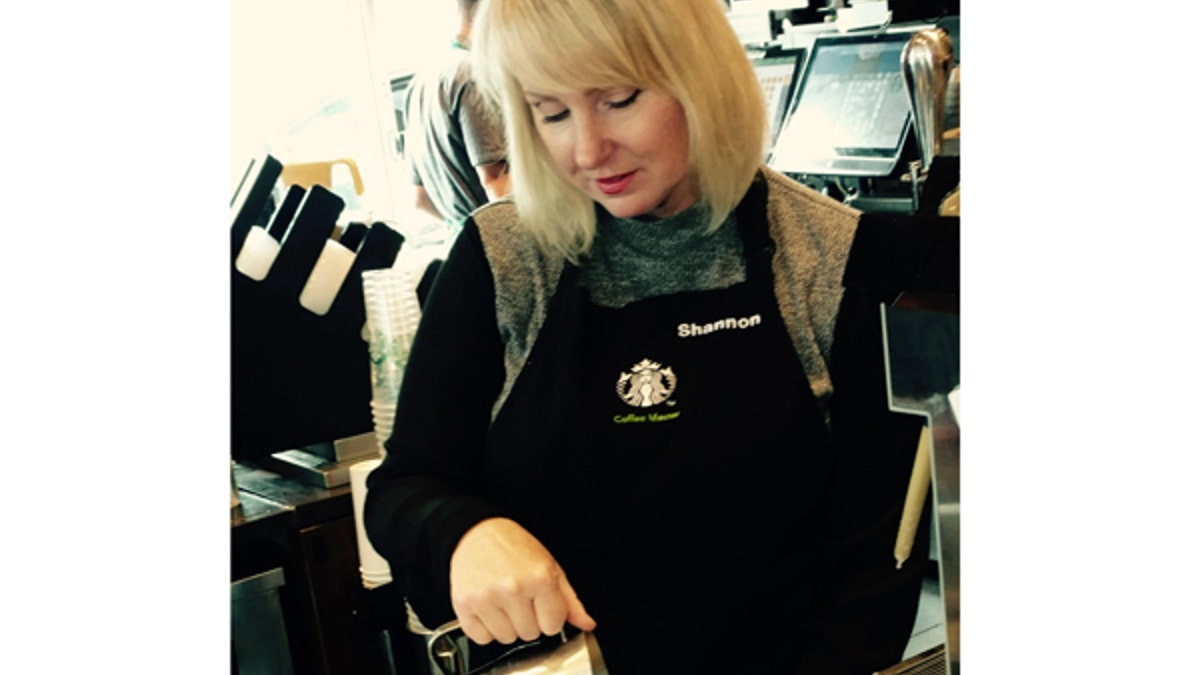 Starbucks on Tuesday unveiled four other new Military Family Stores: Two in Texas, serving Camp Mabry in Austin and Ft. Bliss in El Paso; one in Newport, Rhode Island, near Naval War College; and another in Bedford, Mass., a few miles from Joint Base Hanscom.
The stores -- now at 37 -- are part of a broader initiative by Starbucks to provide thousands of jobs to veterans and military spouses, while also serving as communal hubs where current and former service members can connect, share stories and become part of a larger support network.
The company has committed to hiring 25,000 veteran and military spouses by 2025. Starbucks has currently employed more than 10,000 veteran and military spouse partners since it announced its initiative in 2013.
"Service members and military spouses are the best example of engaged citizens," John Kelly, a Starbucks senior vice president, said.
"Long after leaving active duty, they continue to vote, volunteer and serve their communities at a high rate, serving as the best examples of citizenship," Kelly said. "We are honored to serve as a place where these American heroes can continue to impact their community in a positive way."
In addition, many coffee shops designated as Military Family Stores have also joined the "Adopt a Military Unit program," in which store partners sponsor units and send care packages to active military deployed overseas.
Approximately 453,000 veterans were unemployed in 2016, according to the Bureau of Labor Statistics. The unemployment rate of veterans for that year varied across the nation, ranging from 1.8 percent in Indiana to 7.6 percent in the District of Columbia. The U.S. Department of Housing and Urban Development estimates that 39,471 veterans are homeless on any given night.
Matt Kress, a 22-year veteran of the U.S. Marine Corps who served in Iraq, worked as a firefighter in California before managing the veterans and military affairs program for Starbucks.
Kress described the transition from active combat to civilian life as a "frightening period" during which military personnel enter a "major unknown."
Starbucks' veteran initiative, he said, provides help in every way to a community whose unique needs are often overlooked.
"Some of our veterans are only with us for a year, while others are here longer," he said. "This is their landing spot to figure out what they want to do with the rest of their life."
Cristina Corbin is a Fox News reporter based in New York. Follow her on Twitter @CristinaCorbin.