Starbucks customer describes shooting: 'It was just terror'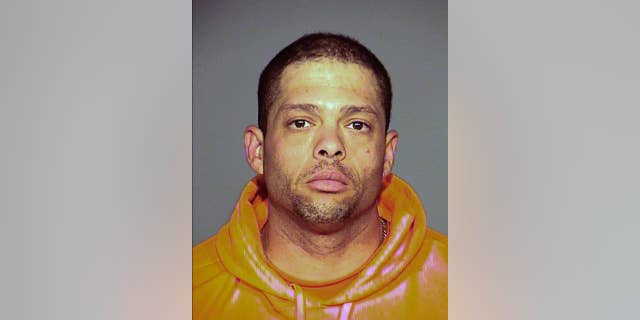 NEWYou can now listen to Fox News articles!
LAS VEGAS – A Starbucks customer described terrified people dropping to the floor and sobbing after a gunman parked his car and entered the Las Vegas store, shooting a man inside.
Customer Medin Gebrezgier told police and a television reporter that he saw the gunman, identified Monday by police as Pedro Jose Garcia, fire twice into the ceiling before shooting a man in the chest.
Garcia entered the store after his payment card was declined at the drive-thru window, police said.
"Terror, it was just terror. We were afraid," Gebrezgier told KVVU-TV Fox5. He described people crying and hitting the floor when shots were fired a little before 11:30 a.m. Sunday.
"We didn't know what was going to happen next. I had no idea what to do," he said. "I heard about this stuff on TV and movies, but it was all the way real."
Garcia, 34, was jailed pending a court appearance on murder, robbery, burglary and weapon charges following his arrest at the Starbucks in a commercial center several miles west of the Las Vegas Strip.
Despite witness accounts that Garcia was unable to make a purchase, a motive for the shooting remained unclear, police Officer Larry Hadfield said. The victim wasn't identified as a coffee shop employee.
"They're investigating whether there was any connection between Garcia and the victim," said Hadfield, a department spokesman.
The name of the 41-year-old man who was pronounced dead at a hospital wasn't immediately made public by the Clark County coroner.
More than a dozen people were in the store at the time of the shooting, police Lt. Dan McGrath said.
Starbucks employee Tenaya Zimmerman jumped out the drive-thru window when shots were fired, her mother, Kim Plank, told the Las Vegas Review-Journal.
A message left Monday by The Associated Press at a telephone number associated with Gebrezgier wasn't immediately returned. A call to a number associated with Plank went to an incorrect number. No number was immediately found for Zimmerman.
McGrath said Garcia tried to blend in and elude police at the scene by calling 911 and describing someone else as the shooter. He was arrested after witnesses identified him to officers arriving to what police initially thought was a hostage situation.
Parts of the shopping center were evacuated for about two hours while a bomb squad examined a backpack in the Starbucks that Garcia allegedly said contained a bomb.
Hadfield said there was no device, but police said a .22-caliber handgun was found in the coffee shop.
Garcia served time in federal and Nevada state prisons for convictions on stolen vehicle, battery, attempted theft, drug and weapon charges, according to court and prison records that showed he was released from federal custody last November.
It wasn't immediately clear if Garcia had an attorney ahead of his initial court appearance.