Stanford students call for professor who co-founded anti-fascist group to resign
A professor labeled as Stanford University's "Most Radical" is facing calls to resign after co-founding a so-called anti-fascist club that critics contend promotes the violent Antifa movement.
Professor David Palumbo-Liu, who teaches comparative literature at the liberal California school, was previously given the title of "Stanford's Most Radical Professor" in The Stanford Review, a libertarian student newspaper, for his vocal anti-Israel rhetoric and for recommending "deeply anti-Semitic websites."
Conservative students at the university say the professor, an outspoken anti-Trump critic who co-founded the Campus Anti-Fascist Network, should resign or be reprimanded because of his ties to the anti-fascist movement. A collection of groups labeling themselves broadly as "Antifa" have been behind several recent violent incidents during protests and marches.
"Antifa's violence and thuggery is antithetical to the purpose of a university as an institution dedicated to the free exchange of ideas," the conservative students wrote in a statement. "We call on the administration to reprimand Palumbo-Liu and for him to resign immediately."
ANTIFA STALKING UC BERKELEY'S CONSERVATIVE STUDENTS, GROUP SAYS
The College Republicans told Fox News in a statement if Palumbo-Liu continues to lead the anti-fascist group, he should not be a Stanford professor.
"Prof. Palumbo-Liu should either disavow the organization he founded due to its apparent domestic terrorist ties or resign," the Stanford College Republicans said. "We believe in the institution of tenure and that the university thus is bound not to force him out, but we call on him to do the right thing by either disavowing his domestic terrorist affiliate or resigning."
Palumbo-Liu told Fox News he doesn't intend to resign – but he would not comment on the controversy.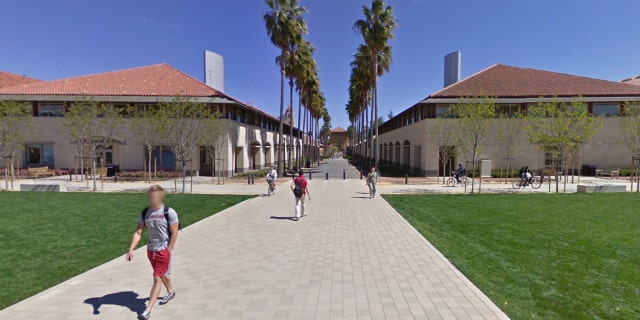 But in an op-ed published in The Stanford Daily, Palumbo-Liu blasted the publication – saying its reporting on the matter was "sensational" and "yellow journalism." He said he called his group the Campus Antifascist Network not to affiliate itself with Antifa, but to "claim an alliance with the anti-fascists who fought Hitler, Mussolini, Franco and other fascist leaders."
Palumbo-Liu also said he formed the group to oppose alt-right speakers who espouse free speech, but then go to campus simply to stir up controversy.
"One of our basic premises is that many, if not all, of the speakers whose ideologies are aligned with the alt-right — including the ideologies of white supremacy, hetero-normalcy, misogyny, anti-Semitism, Islamophobia and other forms of bigotry — are using campus groups to invite them to speak at their universities not to debate, test, advance knowledge, which is the purpose of education," he said, "but to have the legitimacy — and in the case of institutions such as Stanford, Berkeley, Middlebury and others, the luster of these institutions — rub off on them."
The Stanford Review shot back, writing in an op-ed of its own that if the professor really wanted to distance his group from Antifa he should have picked a different name.
"Let's remember the facts here," the Review wrote. "A professor founds a campus group with a name almost identical to a national movement that has been classified by the government as a domestic terrorist organization and identified by most Americans as a group of club-wielding thugs. He defends himself by claiming that his organization has a slightly different name. He fails to roundly condemn the domestic terrorism Antifa members have perpetrated against peaceful citizens. And yet, he is angry at us for pointing out that his actions could be misconstrued as reflecting a preference for violent protest over the peaceful dissent and debate that Stanford stands for."