Stabbing deaths of Oklahoma family may have been recorded, report says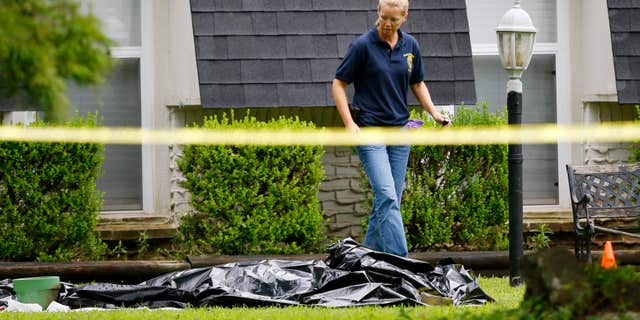 The stabbing deaths of an Oklahoma couple and their children last month may have been recorded on video, according to a search warrant affidavit.
The Tulsa World, which first obtained the affidavit, reports the video cameras were in the home where 18-year-old Robert Bever and his 16-year-old brother allegedly stabbed their parents and three siblings to death and wounded another sibling.
Both brothers have been charged as adults and have pleaded not guilty to five counts of first-degree murder and a single count of assault and battery with intent to kill. A 13-yearo-ld sister was also stabbed, while a 2-year-old sister was found unharmed inside the home.
The affidavit, filed Thursday, says the cameras were near three of the victims and appeared connected to one or more of the computers taken from the home. The document didn't say whether the cameras were activated, but did say "live footage recordings from surveillance cameras" could be found on a thumb drive taken from the home. The affidavit also listed audio recordings and photographs among other possible items that could be found on the thumb drive.
The document states that several electronic devices were removed from the home by police and taken to the Broken Arrow Police Department and many have since been turned over to the Oklahoma State Bureau of Investigation for analysis, but the OSBI's findings haven't yet been released.
The brothers are charged in the stabbing deaths of David Bever, 52; April Bever, 41; Daniel Bever, 12; Christopher Bever, 7; and Victoria Bever, 5.
Broken Arrow police reported going to the home about 11:30 p.m. July 22 after receiving a 911 call from one of the children, believed to be Daniel Bever.
Arrest reports say the 13-year-old identified the attackers as her brothers, who were arrested nearly an hour later in a wooded area behind the home.
The brothers are due back in court for a preliminary hearing Oct. 9.
The Associated Press contributed to this report.