St. Louis gunman kills two gas company workers, then himself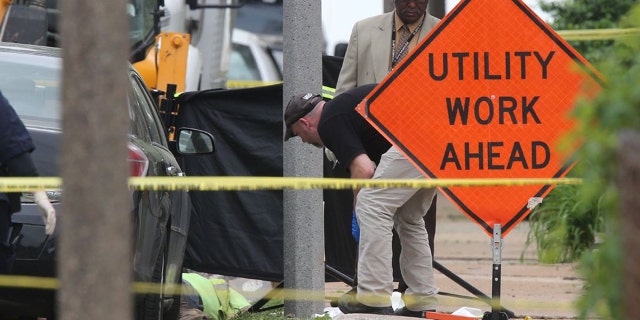 NEWYou can now listen to Fox News articles!
A gunman fatally shot two utility workers on the western edge of St. Louis Thursday before turning the gun on himself, authorities say.
The shooting occurred at around 11:15 a.m. local time in the residential Hamilton Heights area. Police say the gunman walked up to one of the workers and shot him before murdering the other worker, who had just gotten out of a backhoe.
"We have no motive at this point in the investigation," police Capt. Mary Warnecke said. "It does not appear words were exchanged."
Names of the victims and the shooter have not been released. Authorities say the workers were both men, one in his 20s and the other in his 50s.

Neighborhood residents told the station they recognized the gunman, but did not know him. Police said the gunman was black and the two workers were white, but there was no indication the shooting was racially motivated.
Manyika McCoy, 37, told the St. Louis Post-Dispatch that the workers were connecting gas service to a home she was moving into. One was using a jackhammer and another was in a backhoe. She was at her mother's house nearby when, she said, she saw a man walking purposefully down the street toward the workers.
"I heard pop, pop," McCoy said. The worker in the backhoe "was saying, 'Wait, wait," and the guy just kept shooting at him," McCoy said. The worker eventually collapsed in the street, she said.
The shooting came two days after a man wanted in the slaying of a security guard gunned down three men, including a Pacific Gas & Electric Co. employee, in unprovoked attacks on the streets of downtown Fresno, Calif. Kori Ali Muhammad, 39, was arrested shortly after the rampage, and posts on what appeared to be his Facebook page discussed wanting to kill white people.
Laclede Gas is a natural gas distribution utility that serves the St. Louis area and portions of southeast Missouri.
"We are shocked and grieving today after two of our Laclede Gas employees were shot and killed this morning at one of our job sites," Laclede Gas said in a statement. "We are connecting with their loved ones now. And, we are working with police to understand more about this crisis. We are heartbroken, as you can imagine, and ask that you hold these employees, their families, their friends, Laclede Gas workers and our communities in your thoughts and prayers."
Laclede Gas pulled all non-emergency workers from the streets for the rest of the day as a precaution, the company said.
St. Louis has one of the nation's highest homicide rates. The city recorded 188 killings in both 2015 and 2016 and had 45 this year through April 18, according to police statistics.
New Mayor Lyda Krewson has said creating a safer city is among her top priorities. On Wednesday, her first full day in office, she announced that Police Chief Sam Dotson was retiring, though he will stay on as a consultant for one year.
The Associated Press contributed to this report.