Spying on students? Education publisher Pearson monitoring social media activity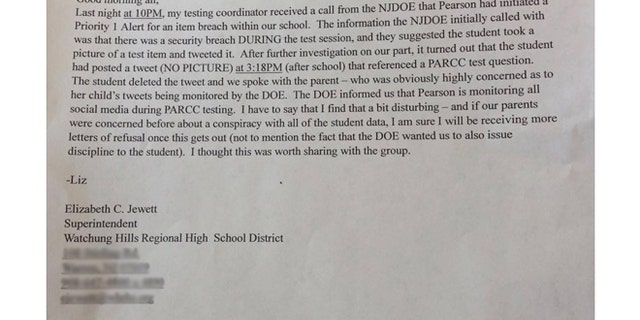 One of the world's largest education publishing companies, which crafted the standardized tests for the new Common Core curriculum, has been monitoring social media accounts to see if students refer to their exams.
Pearson -- a British-based publishing house with it's U.S. headquarters in New Jersey -- has the contract to develop and provide the PARCC (Partnership for the Assessment of Readiness for College and Careers) standardized tests. PARCC is one of the two agencies that developed the Common Core program.
Word that Pearson was monitoring social media posts for students commenting on the exams was first reported on the blog of Bob Braun, a former education reporter for The Star-Ledger of Newark, New Jersey.
On Friday, Braun published a copy of a letter sent to the staff of the Watchung Hills Regional High School District in the town of Warren by Superintendent Elizabeth Jewett about the social media monitoring.
"…my testing coordinator received a call from the NJDOE [New Jersey Department of Education] that Pearson had initiated a Priority 1 Alert for an item breach within our school," read the letter from Jewett. " …they suggested the student took a picture of a test item and tweeted it."
"I find this a bit disturbing—and if our parents were concerned before about a conspiracy with all of the student data, I am sure I will be receiving more letters of refusal once this gets out."
Jewett pointed out in the letter that after further investigation they determined that the unnamed student had actually posted the tweet referring to the PARCC exam after school hours and that he did not include a picture as previously thought. She also said the child's parents were concerned about the monitoring and confirmed that the publisher was monitoring student activity on the web.
"The DOE informed us that Pearson is monitoring all social media during PARCC testing," she said in the letter. "I have to say that I find this a bit disturbing—and if our parents were concerned before about a conspiracy with all of the student data, I am sure I will be receiving more letters of refusal once this gets out (not to mention the fact that the DOE wanted us to also issue discipline to the student)."
Officials at Pearson did not explain how they are monitoring student activity, but it is believed that they are conducting key word searches for any mention of the PARCC tests on sites like Facebook and Twitter. The company has acknowledged the monitoring, saying, "We believe that a secure test maintains fairness for every student and the validity and integrity of the test results."
The posting of Jewett's letter has raised concerns among those in the Garden State.
"Twitter is a public forum but the problem here is that you have a large, multinational corporation and a state agency seeking out the bad guys and punishing them," Braun told FoxNews.com. "This is a $108 million dollar contract and the state is turning the power over to Pearson.
"I want to know how they were able to connect a tweet with a kid at a certain district. Pearson was able to track the student down. I'm not able to do that," Braun said.
Jewett did not immediately respond to requests for comment but she posted a letter on her district website saying she stands by what she said in the original letter to other educators.
"The email shown in his article is authentic," she wrote in her statement. "It was an email I sent on March 10, 2015 at approximately 10:00AM to a group of superintendents to share my concerns and to see if other schools had a similar experience. I did not authorize the release of this email nor am I aware of who did release it. I am also not aware of the motives they may have had behind the release. That said, I completely stand behind my comments as they represent not only my views and concerns; they also represent the views and concerns of our Board of Education."
Jewett added that the matter was handled in accordance with the district's code of conduct.
Some in New Jersey have demanded that more be done to address the issue of Pearson's monitoring of students.
"There have been multiple opportunities for the New Jersey Department of Education to respond to parents' questions about how it is protecting student privacy, including at last Thursday's Senate Education Committee meeting," Julia Sass Rubin, a volunteer with Save Our Schools NJ said to FoxNews.com. "Instead, parents' concerns have been brushed aside and the NJDOE has insisted that all student data is being kept completely confidential. Clearly that is not the case."
She adds that testing in May should be postponed until the concerns are addressed.
"These revelations speak to the general lack of transparency around the PARCC tests, the lack of an open, deliberative process, and the exclusion of parents and other community members from any decision-making," she said. "We need hearings on this immediately, to understand fully the level of spying on our children that is being done by Pearson and other corporations, and the level of coordination between Pearson and the NJDOE. We encourage the NJDOE to suspend the May testing round until those questions can be addressed."
Pearson, for its part, provided a statement to FoxNews.com saying, "The security of a test is critical to ensure fairness for all students and teachers and to ensure that the results of any assessment are trustworthy and valid. We welcome debate and a variety of opinions. But when test questions or elements are posted publicly to the Internet, including social media, we are obligated to alert PARCC and our state customers. Any contact with students or decisions about student discipline are handled at the local level. We believe that a secure test maintains fairness for every student and the validity and integrity of the test results."
Officials at the Council of Chief State School Officers (CCSSO), the other agency that developed the Common Core standards, shares the sentiment of those at Pearson.
"A critical part of giving a high-quality assessment is making sure the test questions are secure so all students take a fair, valid and reliable test," Scott Norton, Strategic Initiative Director for Standards, Assessment and Accountability at CCSSO said to FoxNews.com. "One of the ways test security can be compromised is throughthe sharing of test questions on public forums such as social media. It is up to each state to make sure it has the necessary protocols and processes in place to keep its statewide assessment secure."
Braun believes that the actual reason may come down to money.
"One of they ways that these tests are administered is through Chromebooks, so the access to the questions are relatively easy," he said. "What does matter to Pearson is if the questions leak, they would likely have to develop new items and that's a cost they don't want to spend money on."