Spoils of War: Black market robust for military artifacts stolen from public displays
In the predawn hours of May 1, thieves towed away a World War I-era cannon from outside the Veterans Memorial Hall in Richmond, Calif. -- where the artillery piece had stood for 70 years -- and later sold it to an unsuspecting buyer.
It was an audacious caper, but not an uncommon one. American war memorabilia is so hot that thieves are robbing VFW halls, museums, and even graves to supply a black market that operates online, in flea markets and through a murky network of rabid collectors, according to law enforcement and dealers tasked with identifying stolen items -- some worth thousands.
"There's definitely a market for it," said Pat Chaisson, of Scotia, N.Y., a retired Army National Guard officer, history buff and longtime collector of military and war memorabilia.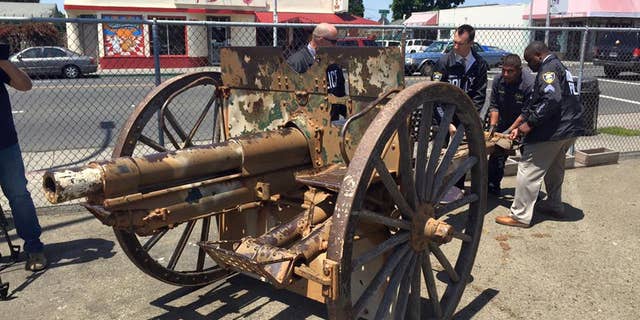 "The buyer has to be very careful," Chaisson warned. "All of the collectors I know are very sensitive that there's a black market out there – that what you're buying could very well have been stolen."
"And it's difficult to identify sometimes," he said. "How do you prove that a musket ball or cannon wasn't stolen from an armory or a collection?"
The 5-foot-tall iron and brass cannon taken from the Veterans Memorial Hall in Richmond was returned after the buyer, who purchased it for $1,200, saw a news story about it and contacted police.
"This act is about stealing a piece of our country's history, and stealing from our war veterans who fought bravely for our country and our freedom," the Richmond Police Department said in a statement.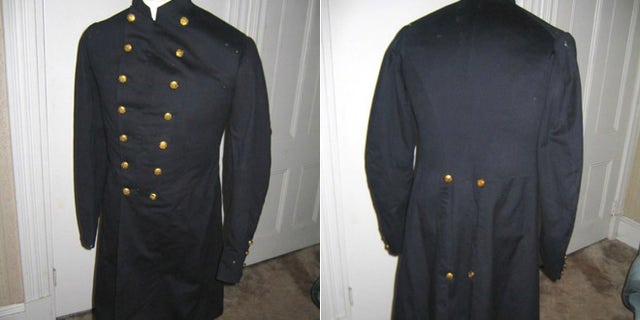 "This gentleman was more than helpful and felt absolutely horrible he had inadvertently bought a stolen piece of American history," police said.
The cannon theft is one of many around the country involving priceless military and war memorabilia -- from tanks in front of small-town VFW halls to medals displayed in unguarded government buildings. Shady middlemen and collectors need not worry about provenance, say experts.
"There's no way to track it," said Rick Brumby, the historian at the of the Museum of Military History in Kissimmee, Fla. "There are no serial numbers on this stuff."
Brumby noted that while a market exists, it's very difficult to sell such items on reputable auction sites, like eBay.
"The real stuff has a tendency to go into private collections," Brumby said. "People get greedy and, if the price is right, they'll buy it and keep it in their home.
"When they die, it comes out," he said.
Vermont State Police are actively hunting for Civil War memorabilia stolen in October from a Shrewsbury man's home, items that were passed down through generations. The valuables taken from George Lincoln's home include a 6" flintlock pistol with a small leather powder horn, a post-Civil War-era bayonet and a distinctive Civil War Union soldier's leather ammo case.
The theft followed another Vermont case from 2015, in which thieves stole World War II memorabilia from the family of a nurse who served in the U.S. Army.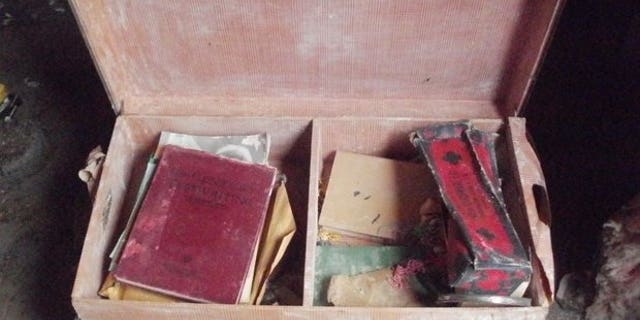 Det. Sgt. Benjamin Katz of the Vermont State Police told FoxNews.com it's challenging to recover such items and described dealers of second-hand goods as "the driver of these type of crimes."
"Not all dealers are shady, of course, but all it takes is a couple," he said. "In Vermont, if they know it's stolen, they have to call police. But it's impossible for us to prove they knew it was stolen.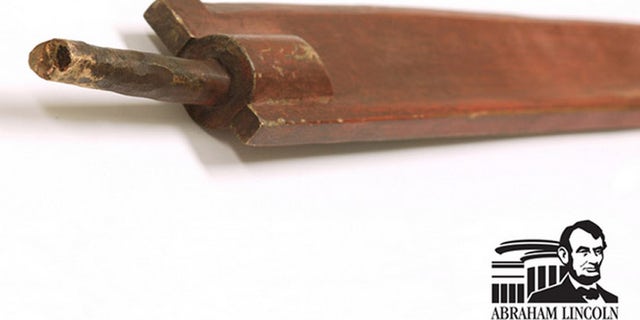 "It's basically an honor code," he said. "There's very little regulation when it comes to the purchase of antiquities."
In February 2015, investigators with the Sacramento County, Calif., Sheriff's Department said they discovered a "trove" of military medals and memorabilia during a probation search.
The items, which were reported missing in 2014, belonged to the family of an Air Force pilot who served during World War II. The belongings included a Purple Heart medal, photographs and the man's personal diary, written while he was a Prisoner of War. Authorities said they were able to return the collection of priceless goods to members of the pilot's family who live in another state.
The most egregious example of war collectible theft, say law enforcement, is the desecrating and looting of soldiers' graves. Such was the case in Burke County, Ga., in 2013, when two men allegedly raided the graves of five Confederate soldiers inside the Old Church Cemetery in search of heirlooms.
Antique brokers say these historic war relics can sell for a hefty price: An officer's sword from the Civil War is valued between $20,000 and $30,000, while uniforms and medals can go for $500 to several thousand dollars.
In 2011, copper thieves struck Abraham Lincoln's burial site in Springfield, Ill., stealing a 3-foot-long sword from a statue atop the tomb. A guard used to be stationed at the tomb overnight, but the position was cut over budget problems.
Cristina Corbin is a New York-based reporter for FoxNews.com. Follow her on Twitter @CristinaCorbin.