Spiritual Jewelry All the Craze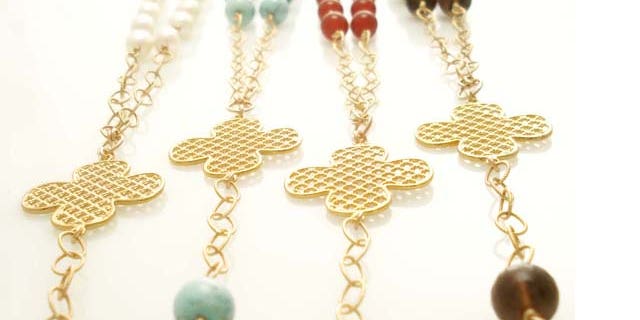 Baubles, bangles and beads are more than mere ornaments that enhance the body these days. They've become talismans to heal the soul.
And celebrities like Miley Cyrus and David Beckham are helping the jewelry industry cash in.
"I love that celebrities are sort of ushering in a greater understanding… just by looking good," says Rachel Smith, owner of Giving Tree Jewelry in Cape Cod.
They do far more than look good. When a celebrity wears a piece of jewelry on the red carpet or in entertainment magazine photos, the public responds with its credit cards. A big seller has been the "Fearlessness" necklace worn by Law & Order star Mariska Hargitay. The necklace, with Tibetan writing on one side, is a huge seller for Me & Ro, a company whose line also includes the Om and the Chakras of the Hindu tradition.
But even if a company doesn't exclusively carry spiritual-themed trinkets, Smith says 90 percent of jewelers carry items with faith, strength or mystical messages or images – and more than ever this year.
Click here to view a slideshow of some of the spiritual jewelry people are wearing.
Designer Tory Birch is selling the evil eye bracelet, a royal blue design with what looks like a black bull's-eye in the center. According to superstition, it can cause injury or mishaps to those who threaten or harm the person wearing it.
Of a more congenial variety, Smith carries the popular Charma bracelet with Buddhist and Hindu images, and also a sterling necklace with an Apache Indian blessing, among many items.
"I think people started to realize that jewelry had this ability to change the way you felt," says Smith. "So this idea of wearing a piece of jewelry because it made you feel different, empowered, or more connected or more safe, sort of, I saw enter the consciousness."
It didn't hurt that the recent movie "Eat Pray Love," starring Julia Roberts, with its scenes of Indian imagery and piety, inspired new designs in an industry already feeding off faith images and the celebrities who wear them.
David Beckham wears a necklace based on an ancient coin for good luck; Miley Cyrus has been spotted wearing a rosary-like necklace.
Unlike a cross or a Star of David, the best selling spiritual jewelry represents no specific religion.
But Jessica Elliot's Rosary Line necklace is, which is shaped like Catholic prayer beads but does not have any religious symbol attached, strikes a little too close to home for the Catholic League. In a statement, Catholic League President Bill Donohue, wrote:
"That Catholic iconography is being misused the most is not surprising, though it does indicate a curious, if not subliminal, attraction worthy of analysis."
Elliot says her Rosary Line necklaces are not intended to be a religious symbol. The lower hanging pendant only resembles the style of a rosary. "It's a beautiful flattering shape," she says.
Religion author and journalist Don Lattin, says one reason for the spiritual jewelry craze is that Americans are basically consumers, shopping for faith.
"People are picking a little from here, a little Buddhism, a little yoga, a little Christian mysticism... and so there's a whole new attitude toward religion and spirituality now," he says.
"And part of that is people are buying experiences, they're also buying items like jewelry or yoga mats or all kinds of things to go with the new identity they have."
Lattin says it's a utilitarian approach to faith. He says people want something for their money and their spiritual experience. It's very different, he says, than looking for salvation or a connection to a transcendent being.
That kind of spirituality can't be bought.