Southwest jet's broken fan blade triggered chain reaction of disaster, investigators say
The series of events that unfolded on a Southwest airliner on Tuesday after one of the jet's engines exploded mid-flight may have been triggered by a broken fan blade, investigators said Wednesday.
A preliminary investigation found that a fan blade — one of 24 — inside of the Boeing 737's left engine snapped while Flight 1380 was flying at 500 mph above Pennsylvania.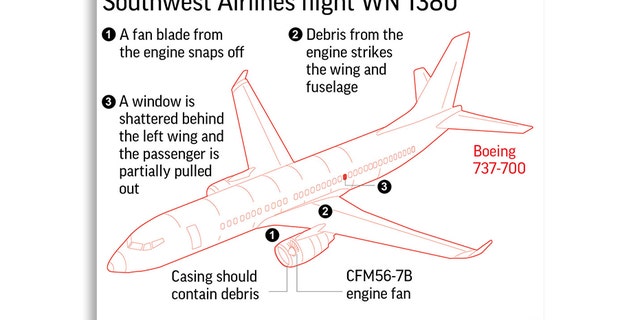 "This fan blade was broken right at the hub, and our preliminary examination of this was there is evidence of metal fatigue where the blade separated," National Transportation Safety Board (NTSB) Chairman Robert Sumwalt said at a news conference.
Metal fatigue — microscopic cracks that can splinter open under the kind of stress placed on jetliners and their engines — was blamed for an engine failure on a Southwest plane in Florida in 2016. Both that plane and Tuesday's jet were powered by CFM56 engines.
Manufacturer CFM International, a joint venture of General Electric Co. and France's Safran SA, recommended last June that airlines using certain CFM56 engines conduct ultrasonic inspections to look for cracks.
The Federal Aviation Administration said late Wednesday it'll begin to issue a directive in the next two weeks to require inspections of certain CFM56-7B engines.
While Sumwalt said the investigation is in its early stages and could take up to 15 months, he detailed more information about the flight, which left one passenger dead but was safely landed at Philadelphia International Airport.
The plane landed at a high speed — 190 mph, rather than a usual 155 mph — because the pilots were concerned about losing control if they flew any slower.
SOUTHWEST AIRLINES PASSENGER MOURNED AS PLANE ENGINE THAT EXPLODED SHOWED EVIDENCE OF 'METAL FATIGUE'
Investigators also found that the leading edge of the left wing was damaged by the shrapnel produced by the explosion, which killed passenger Jennifer Riordan.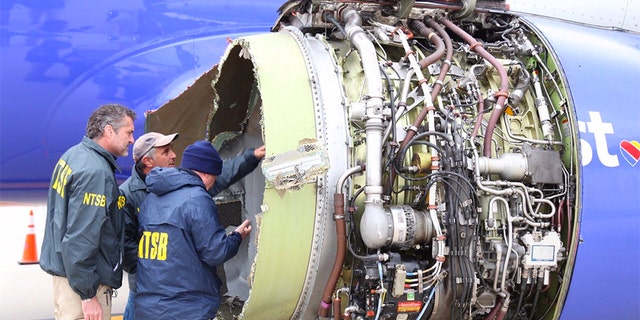 Riordan, according to passengers, was partially pulled out of the row 14 window, which was damaged by shrapnel. Officials said the mother of two and Wells Fargo executive was wearing a seatbelt.
James Garrow, of the Philadelphia Department of Health, said Riordan's death was ruled accidental and she died from blunt impact trauma to her head, neck and torso.
Federal investigators are still trying to determine how the window came out of the plane. No plastic material from the window was found inside the 737.
Officials said that part of the engine's exterior, the cowling, was found in Bernville, Pennsylvania, roughly 70 miles from Philadelphia's airport. The NTSB said it's received multiple reports from people finding other pieces of the cowling in other areas.
Fox News' Kathleen Joyce and The Associated Press contributed to this report.