Southwest Airlines hero pilot texted friend 'God is good' after landing
NEWYou can now listen to Fox News articles!
The Southwest Airlines pilot hailed as a hero for her efforts to land a damaged aircraft after a deadly engine explosion texted a brief, but powerful message to a friend upon touching down: "God is good."
Veteran Navy combat aviator Linda Maloney told the Dallas Morning News when she heard her friend Tammie Jo Shults was behind the controls she texted her "News travels fast. Praying for you."
Shults replied: "Thanks. God is good."
Maloney told the newspaper she met Shults at a Navy training event and kept in touch even as they were based on opposite coasts in Florida and California.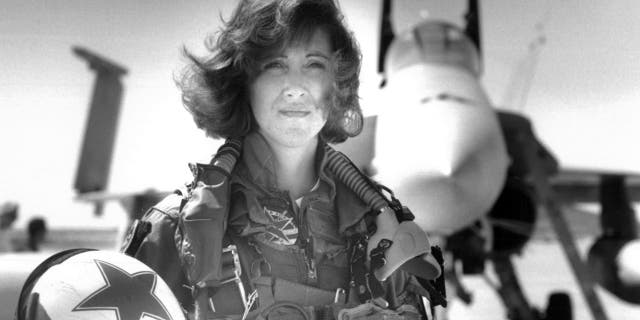 Shults was commissioned into the Navy in 1985 and reached the rank of lieutenant commander, according to Commander Ron Flanders, the spokesman for Naval Air Forces in San Diego.
"We became fast friends," she said. "We had a small group of girlfriends who were all aviators. When there's very few women, you tend to form strong relationships."
Shults, 56, was featured in Maloney's book "Military Fly Moms" along with the stories and photos of 69 other women U.S. military veterans, and even sang at Maloney's wedding.
Maloney told the Dallas Morning News she hopes her friend's heroic act will inspire other young people, especially women, to consider aviation careers.
SOUTHWEST AIRLINES FLIGHT HEROES DESPERATELY TRIED TO SAVE MOM
In a statement late Wednesday, Shults and the other pilot on board, First Officer Darren Ellisor, said they felt like they were simply doing their jobs.
"On behalf of the entire Crew, we appreciate the outpouring of support from the public and our coworkers as we all reflect on one family's profound loss," the two pilots said in the statement, adding that their "hearts are heavy."
Shults and Ellisor said they won't be partaking in any interviews, and "ask that the public and the media respect our focus."
HERO SOUTHWEST PILOT SPEAKS OUT: 'WE WERE SIMPLY DOING OUR JOBS'
Passengers said Shults walked through the aisle and talked with them to make sure they were OK after the plane touched down.
"I specifically said to her, 'Do I get a hug too?'" Benjamin Goldstein told the Dallas Morning News. "She said, 'Of course. I wouldn't let you by without a hug.'"
National Transportation Safety Board Chairman Robert Sumwalt told reporters at a news conference Wednesday that the jet's pilots "seemed very calm and assured of what they were doing," and said Shults and Ellisor "behaved in a manner that their training would prepare them for."
"My hat is off to them," Sumwalt said.
Fox News' Nicole Darrah and The Associated Press contributed to this report.