Southern California's Thomas Fire forces new evacuations, threatens wealthy enclave
One of the biggest wildfires in California's history sparked new evacuation orders Saturday in Santa Barbara County, as powerful Santa Ana Winds brought damaging gusts across the region early Sunday that threatened to fan the flames.
Nearly 8,500 firefighters continue to battle the Thomas Fire in Southern California, which has burned since Dec. 4 and killed one firefighter, destroyed more than 1,000 structures and threatened 18,000 more. The blaze has scorched 269,500 acres so far, an area larger than New York City and roughly the size of the Hawaiian island of Maui.
"It is a beast," Santa Barbara County Fire Department Division Chief Martin Johnson said at a news conference. "But we will kill it."
The fire is now the third-largest in California history, and continued to move rapidly westward. On Sunday, television news footage showed at least one structure burned on property in the wealthy enclave of Montecito. Known for its star power, Montecito boasts the mansions of Oprah Winfrey, Ellen DeGeneres and many other celebrities.
"It is a beast"
Winfrey expressed her dismay on her Twitter account.
"Still praying for our little town. Winds picked up this morning creating a perfect storm of bad for firefighters," Winfrey tweeted.
"God bless every firefighter and their families. fighting 3 weeks straight. still going. Imagine their exhaustion," she wrote Sunday morning, while replying in another tweet, "Evacuated 10 days ago. Smoke was so bad for breathing. Dogs are in Palo Alto."
"Strong #SantaAnaWinds will cause blowing dust/ash from recent fires as well as the potential for power outages and strong crosswinds on some area highway," The National Weather Service's Los Angeles office tweeted.
Montecito residents piled into cars and sped off on Saturday, turning downtown Santa Barbara into what one resident called "a ghost town."
There were mandatory evacuations around Montecito and neighboring Summerland came as firefighters sprayed water onto hot spots sparked by wind-blown embers.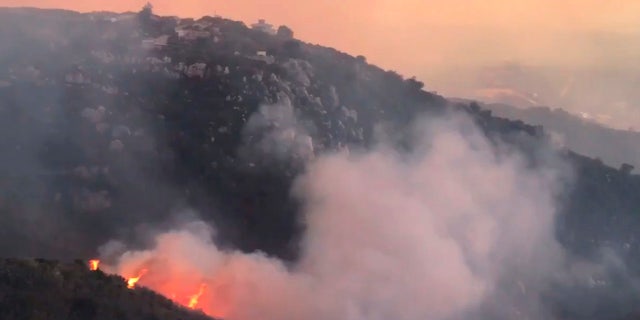 Montecito resident Darren Caesar told the Los Angeles Times his wife, and two of his three daughters were planning to evacuate.
"Look at how many firefighting assets they have. I know what they're doing. I trust that they can do everything they can to protect the structures," he told the newspaper. "But it's the wind. Nobody can fight the wind."
SANTA ANA WINDS: WHAT ARE THEY?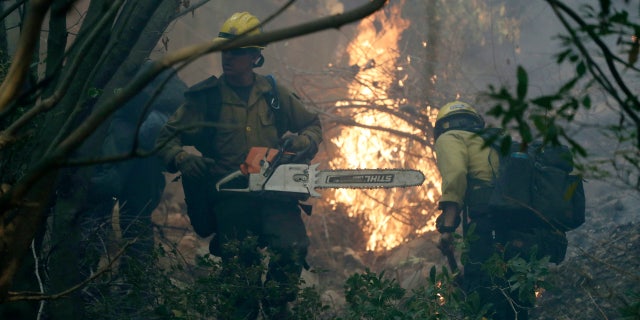 The blaze, located about 100 miles northwest of downtown Los Angeles, is now 40 percent contained despite hot Santa Ana winds that have kept firefighters busy trying to catch up with embers continuing to help its spread.
Despite the new evacuation orders, there was a spot of good news down the coast. Emergency officials announced evacuation orders for the city of Ventura were lifted, as the fire has shifted.
As the northerly "sundowner" wind was driving the fire south and west, firefighters could only hope it would calm down.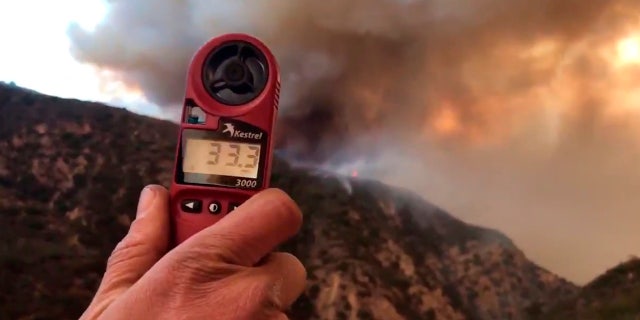 "When the sundowners surface in that area and the fire starts running down slopes, you are not going to stop it," Mark Brown, of the California Department of Forestry and Fire Protection, told a news conference. "And we are not going to stand in front of it and put firefighters in untenable situations."
THOMAS FIRE IN SOUTHERN CALIFORNIA JOINS LIST OF DESTRUCTIVE BLAZES IN THE STATE
The firefighter who was killed, Cory Iverson, 32, died of burns and smoke inhalation, according to autopsy results announced Saturday.
Since the fire began on Dec. 4, about 95,000 people have been placed under mandatory evacuation. The evacuation zone near Santa Barbara on Saturday was 17 miles long and up to 5 miles wide and the new expansion encompassed about 3,300 people.
The cause remains under investigation. So far, firefighting costs have surpassed $100 million.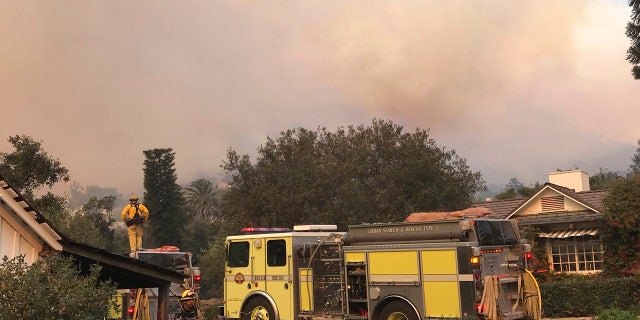 The Associated Press contributed to this report.