Southern California's Thomas Fire explodes in size, threatens new areas
NEWYou can now listen to Fox News articles!
Southern California's largest and most destructive wildfire exploded in size Sunday and swept into new areas, as the wind-whipped flames forced thousands more residents to flee their homes.
The powerful flare-up on the western edge of the Thomas Fire sparked new evacuations as the fire sent up giant plumes of smoke near Montecito and Carpinteria, seaside areas in Santa Barbara County about 75 miles northwest of Los Angeles that had been under fire threat for days and were now choked with smoke.
"The winds are kind of squirrely right now," said Mike Eliason, the Santa Barbara County fire spokesman. "Some places the smoke is going straight up in the air, and others it's blowing sideways. Depends on what canyon we're in."
Fire crews, with the help of a fleet of water-dropping planes and helicopters, tried to save homes as unpredictable gusts sent the blaze deeper into residential foothill areas and into unoccupied sections of Los Padres National Forest, where the state's fourth-largest fire burned a decade ago.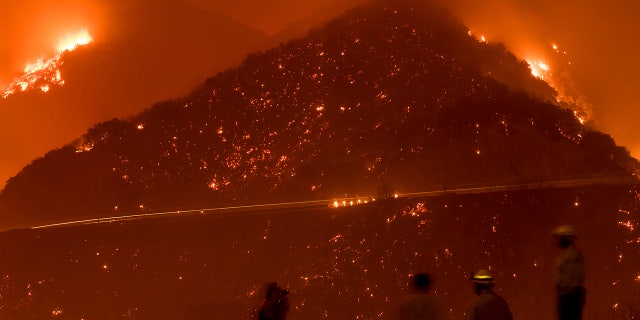 The wind-fanned flames churned through old-growth brush in canyons and along hillsides toward coastal towns. While the winds appeared to lessened slightly on Monday, officials warned they were not sure how it would help out firefighters.
The out-of-control blaze grew by more than 50,000 acres on Sunday and scorched 230,000 acres in total, making it the fifth largest wildfire in modern California history, according to The Los Angeles Times.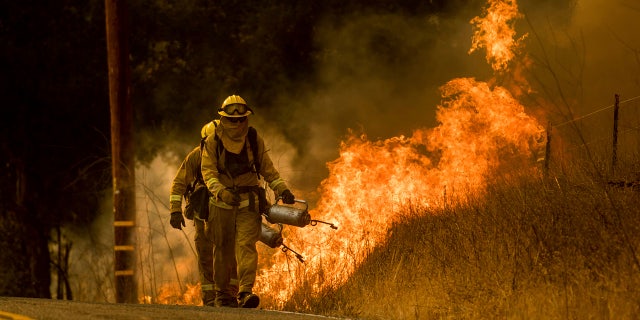 THOMAS FIRE IN SOUTHERN CALIFORNIA JOINS LIST OF DESTRUCTIVE BLAZES IN THE STATE
The blaze has split into two forks in an uncontrolled move west into the Santa Barbara foothills, and northwest toward Lake Cachuma, FOX 11 reported.
Thousands of homes and businesses in Santa Barbara County were without power. Overall, the fires have destroyed about 800 homes and other buildings, killed dozens of horses and forced more than 200,000 people to flee since Dec. 4. So far, one death, a 70-year-old woman who crashed her car on an evacuation route, is attributed to the fire in Santa Paula, a small city where the fire began.
Officials handed out masks to residents who stayed behind in Montecito, the wealthy hillside enclave that's home to celebrities such as Oprah Winfrey, Jeff Bridges and Rob Lowe.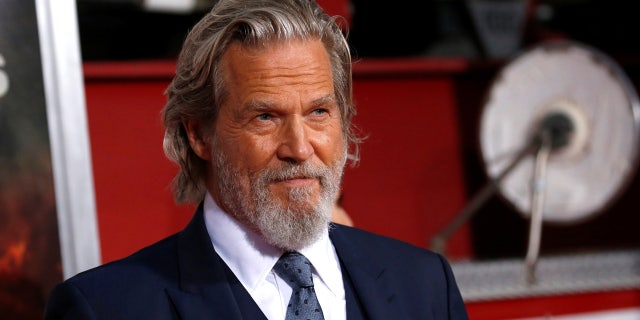 "Our house is under threat of being burned," Ellen DeGeneres tweeted at midday Sunday. "We just had to evacuate our pets. I'm praying for everyone in our community and thankful to all the incredible firefighters."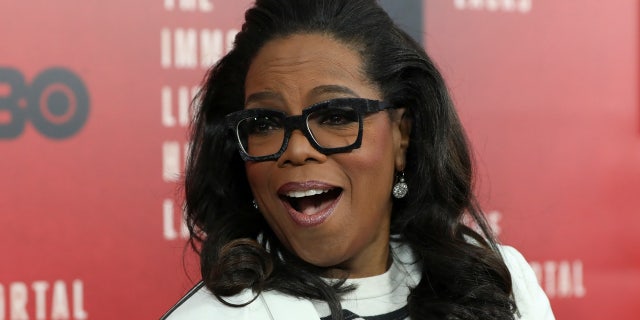 "Peace be Still, is my prayer tonight," Oprah tweeted Sunday. "For all the fires raging thru my community and beyond. #peacebestill"
In Carpinteria, retired school teacher May Osher told the LA Times she didn't plan to leave her neighborhood unless she was ordered to evacuate by police.
"I'm staying until it's time to go,"Osher said.
A few miles to the west, the Santa Barbara Zoo was closed to the public. Workers there gave shelter to the zoo's 500 animals.
Firefighters made significant progress Saturday on other fronts of the enormous fire that started Dec. 4 in neighboring Ventura County. As containment increased on other major blazes in Los Angeles, Riverside and San Diego counties, resources from those fires were diverted to the Santa Barbara foothills.
Forecasters said Santa Ana winds that whipped fires across the region last week would continue in some areas at least through Monday.
A lack of rain has officials on edge statewide because of parched conditions and no end in sight to the typical fire season.
"This is the new normal," Gov. Jerry Brown warned Saturday after surveying damage from the deadly Ventura fire. "We're about ready to have firefighting at Christmas. This is very odd and unusual."
SANTA ANA WINDS: WHAT ARE THEY?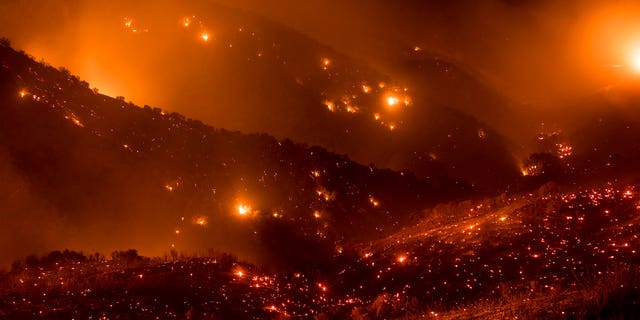 Late last week, the fire swept through the San Luis Rey Training Facility, where it killed more than 40 elite thoroughbreds and destroyed more than 100 homes — most of them in a retirement community. Three people were burned trying to escape the fire that continued to smolder Sunday.
Most of last week's fires were in places that burned in the past, including one in the ritzy Los Angeles neighborhood of Bel-Air that burned six homes and another in the city's rugged foothills above the community of Sylmar and in Santa Paula.
The Associated Press contributed to this report.