Southern California mudslides, flooding leave at least 13 dead in Montecito, highways closed
At least 13 people were killed Tuesday after a powerful winter storm drenching Southern California sent mud, rocks and debris plummeting down wildfire-scarred hillsides and into several neighborhoods, some of which house lavish celebrity homes.
Santa Barbara County Sheriff Bill Brown confirmed the deaths at a news conference Tuesday, in which he said the affected areas of the state "looked like a World War I battlefield."
More people are believed to be dead, and at least 25 people were injured and others unaccounted for.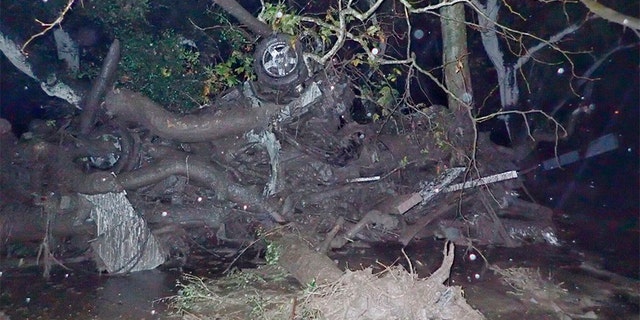 Rescues have unfolded throughout the day in Montecito, an enclave that includes the mansions of Oprah Winfrey, Ellen DeGeneres and several other celebrities.
Mike Eliason, a public information officer with the Santa Barbara County Fire Department, said the heavy rains triggered "massive runoff."
He tweeted, "Multiple rescues from vehicles and structures are underway. Access is difficult/delayed due to-at some locations-waist deep mudflow, trees, and wires down. Avoid the area."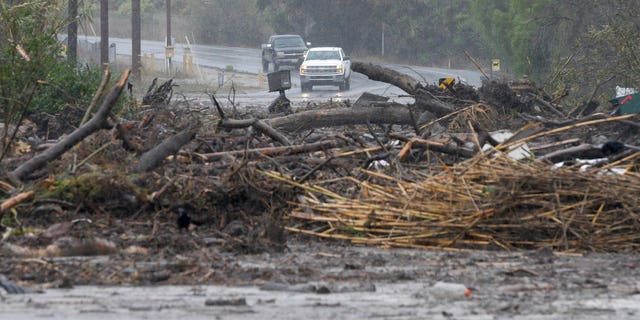 The Santa Barbara Fire Department told KEYT-TV at least three homes have been destroyed by a mud and debris slide in the area of Hot Springs Road. One man was also rescued from mud that was up to his neck, Santa Barbara County Fire Captain Dave Zaniboni told the news station.
Greg Villeneuve, who is staying at the Montecito Inn in Santa Barbara while in the area on business, told Fox News on Tuesday the skies have cleared up but mangled cars, trees, and branches are littering the area.
"I've been coming to Santa Barbara for 17 years and I've never seen anything like this," he said.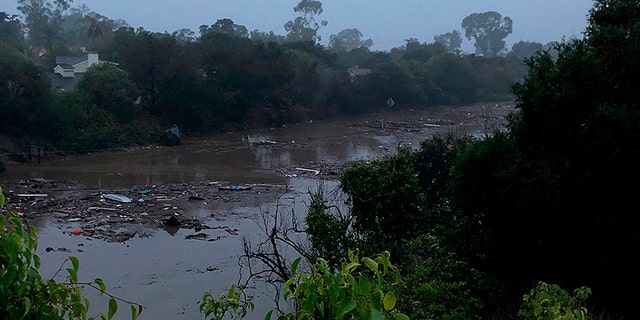 Villeneuve said the 101 Freeway located near the hotel is flooded with several feet of water, and the National Guard has showed up in trucks to assist first responders.
California Highway Patrol said the 101 closed Tuesday between Ventura and Santa Barbara for some 30 miles. Capt. Cindy Pontes said crews are working "feverishly" to clear the road, but it will take at least 48 hours, possibly longer, to reopen it.
At one point early Tuesday, the entire freeway was inundated and the mud was 3 feet deep at the top of a rise, CHP said.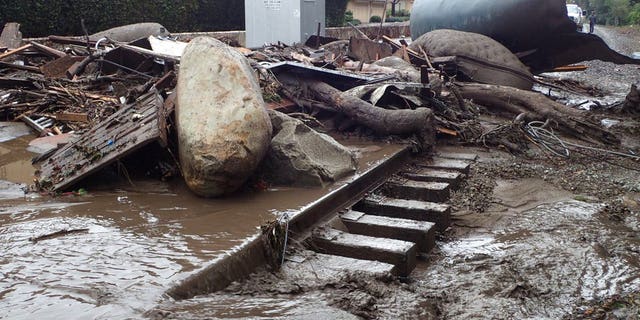 Zaniboni told KEYT "multiple" homes were destroyed and residents were unaccounted for in neighborhoods below hillsides scarred by recent fires. The television station also showed a body being loaded into a military-style truck on a mud-covered street.
Firefighters in Montecito were able to rescue a 14-year-old girl after she was trapped for hours inside a destroyed home. "I thought I was dead for a minute there," the girl could be heard saying on video posted by KNBC-TV before she was taken away on a stretcher.
In Montecito, some residents told the Los Angeles Times they had shrugged off dire warnings about the rainstorm before waking up to the deluge.
"I woke up ready this morning to laugh and scoff at all the gloom-and-doom predictions," Dominic Shiach told the newspaper. "It's actually way worse than I thought it was going to be."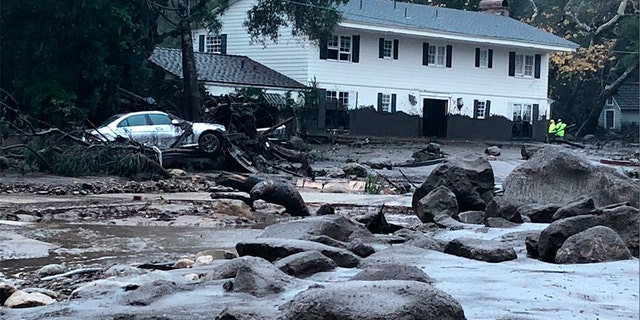 In another Twitter post, Eliason posted pictures of firefighters rescuing two men and a woman from flood waters on Hot Springs Road in Montecito.
The National Weather Service in Los Angeles said at least five inches of rainfall fell in the town of Ojai in Ventura County. The region about 100 miles northwest of Los Angeles is located in the burn area of the Thomas Fire, which scarred the land last month and was the largest in California history.
A yearslong drought eased in the state last spring, but Northern California had a dry start to winter and hardly any measurable rain fell in the south over the past six months. The extremely dry conditions and high winds last year led to some of the most destructive blazes on both ends of the state.
Montecito is beneath the scar left by a wildfire that erupted Dec. 4 and became the largest ever recorded in California. It spread over more than 440 square miles (1,140 square kilometers) and destroyed 1,063 homes and other structures. It continues to smolder deep in the wilderness.
Fox News' Shira Bush and The Associated Press contributed to this report.