Southern Calif. wildfire grows to 800 acres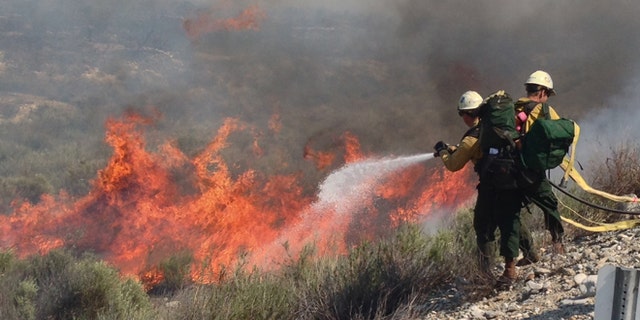 NEWYou can now listen to Fox News articles!
RANCHO CUCAMONGA, Calif. – A wildfire driven by surging Santa Ana winds sent a choking pall of smoke through Southern California foothill neighborhoods on Wednesday, forcing the evacuation of at least 1,650 homes and the closure of at least seven schools.
No homes burned, but the smoke prompted mandatory evacuation orders for several areas of Rancho Cucamonga nestled at the base of the San Bernardino National Forest east of Los Angeles.
The winds that gusted at times to 70 mph grounded low-flying firefighting aircraft, although they remained on standby.
"We tried early on but it was just too dusty" to safely put the craft into the sky, John Miller of the U.S. Forest Service said at an afternoon press conference.
Leo Lemelin, 67, and his family busily loaded several cars with belongings as they prepared to leave.
"We're trying to pack up everything we can into our cars from 45 years of marriage and eight grandchildren," he told the Riverside Press-Enterprise.
More than 700 firefighters battled the flames near this city of 165,000 people.
The fire was reported about 8 a.m., grew to 200 acres by noon, quadrupled in size within a few hours and had burned through 1,000 acres of brush by late afternoon.
Classes were canceled at Los Osos High School about an hour after the fire started.
"We're evacuating `cause there's high winds and there's a fire right up there," student Shane McHale told KTTV, pointing to the mountains.
The fire erupted in the midst of a heat wave that sent Southern California temperatures soaring into the 90s in some areas.
Los Angeles International Airport recorded a high of 87 degrees, breaking the record for the day of 86 that was set in 1996.
At Long Beach Airport, the high of 92 broke a 1996 record by 2 degrees.
Valley areas could see triple digits. High temperatures were expected through Saturday, with humidity in the single digits.
The heat was accompanied by winds gusting to 80 or 90 mph in some mountains and valleys, prompting the National Weather Service to issue red-flag warnings of extreme weather conditions into Thursday night.
Utilities reported about 8,000 people lost power because of wind-related problems such as downed power lines.
Severe winds at Ontario International Airport also caused some flights to be diverted to Los Angeles International Airport, City News Service reported.