South Carolina mass shooting: Slain deputy mourned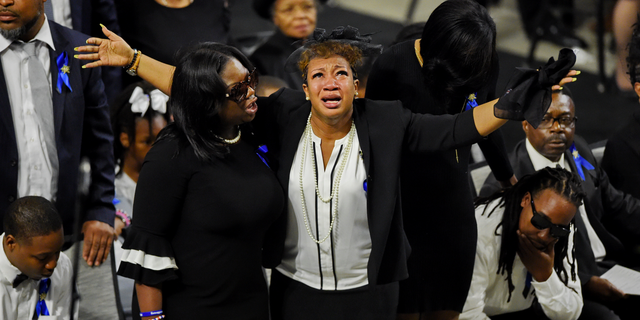 FLORENCE, S.C. – A South Carolina sheriff's deputy who died from wounds suffered in a mass shooting earlier this month was remembered Sunday at her funeral as a dedicated peace officer who always had a smile.
The funeral for Florence County Sheriff's Investigator Farrah Turner drew relatives and colleagues together along with law enforcement representatives from around the country.
Turner was part of a team that investigated sex crimes against children, a job that her boss Sheriff Kenney Boone called one of the hardest on the force.
"She dedicated her life to serving the victims of the worst crimes imaginable," Boone said when he announced her death.
Before joining the sex crime unit, Turner was a police officer serving in schools in a local district. Officials said she even volunteered her time for security when a high school couldn't afford to pay her to work at its prom.
Turner endured at least nine surgeries after being wounded, even having her feet amputated several days before her death.
Turner died on Oct. 22 — 19 days after she was shot in what authorities said was a gunman's ambush on her and two other deputies coming to a home in an upscale Florence County subdivision to investigate possible sexual abuse of a minor.
Frederick Hopkins, 74, then fired more shots at city of Florence police officers trying to rescue Turner and the wounded deputies, according to authorities. Florence Police Sgt. Terrence Carraway died that day and three city officers were wounded.
Rescuers had to use an armored vehicle to move the wounded officers to safety because Hopkins kept firing from his home at the end of a cul-de-sac, which allowed him an unobstructed view for several blocks, according to officials. He also had two children inside the house.
Officers fired nearly 400 shots at Hopkins' home. He fired around 40 shots back, Richland County Sheriff Leon Lott said.
Hopkins is charged with two counts of murder and five counts of attempted murder.
The man Turner and her colleagues were going to question, Hopkins' 28-year-old son Seth Hopkins, has been charged with criminal sexual conduct with a minor against two different girls.
An arrest warrant said one of the girls was younger than 11 when the abuse happened nearly 10 years ago. The other girl, who was between 11 and 14, was abused in the past year, a warrant said.