South Carolina Couple Claims They Discovered Image of Jesus on Walmart Receipt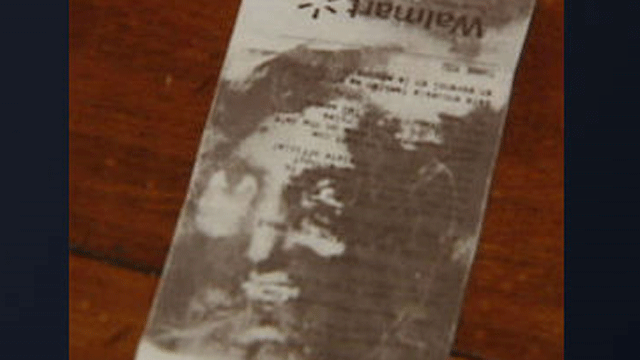 A South Carolina couple is claiming that a receipt obtained from a local Walmart store depicts an image of Jesus, Fox31.com reports.
Gentry Lee Sutherland and her fiancée, Jacob Simmons, said they picked up some pictures at the store on June 12 and left the receipt on Sutherland's kitchen table. They couple said they returned a few days later to see an image that appeared to be Jesus' face colored on the receipt, according to the station.
"We just feel like it's a blessing that God showed it to us and opened our eyes. And we just feel like we should share the blessing God gave to us to everybody else," Sutherland told WYFF-TV.
Someone at the store reportedly told the couple that the heat likely caused the receipt to appear discolored.
Sutherland and Simmons say they did not intentionally alter the receipt.