Son who wrote viral revenge obituary about his mom explains why he did it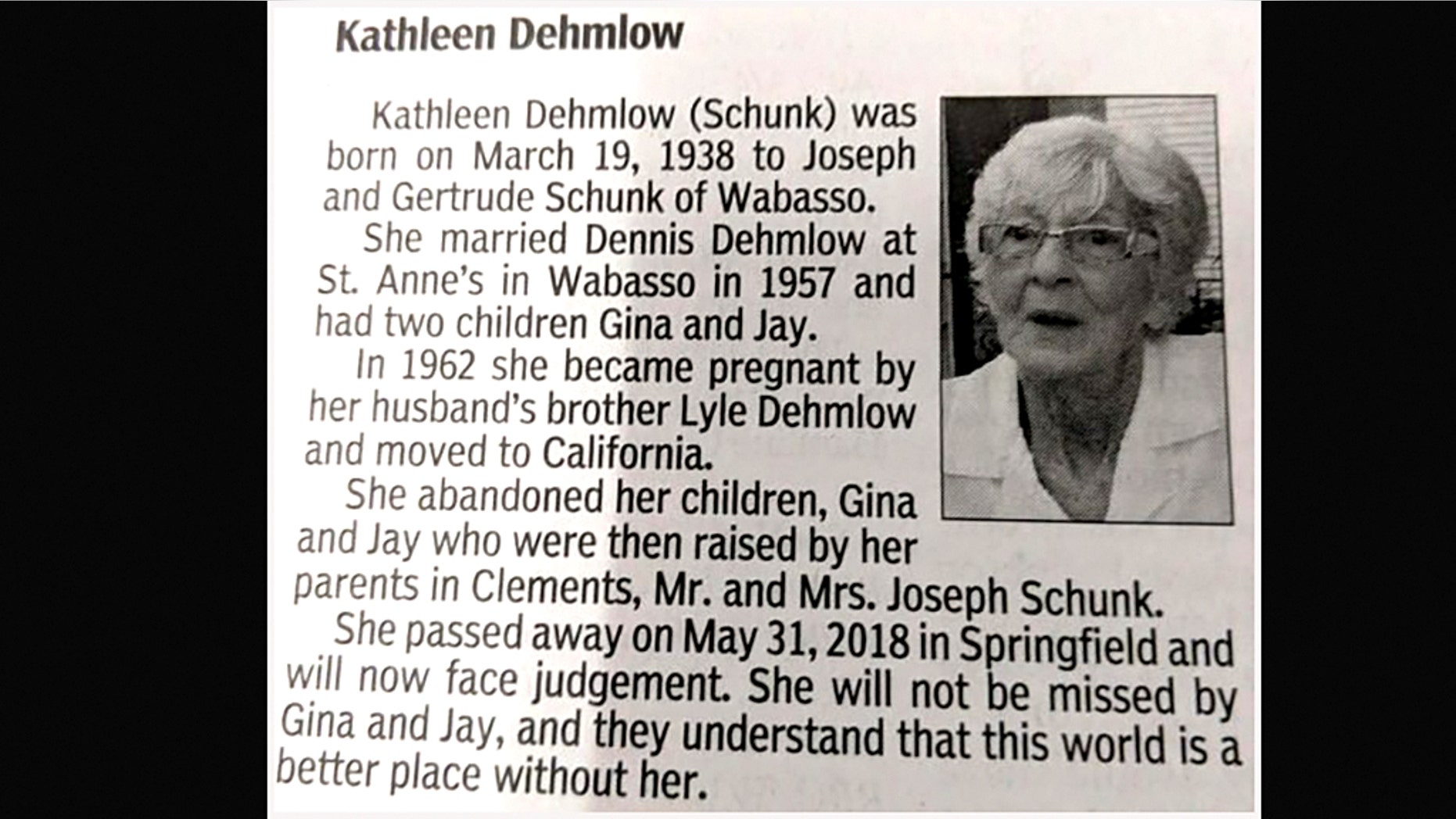 The son who wrote a harsh obituary about his late mother spoke out on Wednesday about why he and his sister decided to reveal why they felt "this world is a much better place without" Kathleen Dehmlow.
Jay Dehmalo, 58, told the Daily Mail that his mother, who died Thursday at the the age of 80, prompted a dysfunctional childhood for him, and his sister, Gina, after she became pregnant by her brother-in-law.
SURVIVORS PENNING 'REVENGE OBITUARIES' TO SETTLE SCORES WITH THE DEPARTED
"We wanted to finally get the last word," Dehmalo told the news outlet. "You could write it all down in a book or turn it into a movie and people wouldn't believe what we went through."
The siblings wrote that Dehmlow "abandoned" them in 1962 as she became pregnant and moved to California. Dehmlow's parents then raised Dehmalo and his sister.
"She passed away on May 31, 2018 in Springfield and will now face judgment," the now-removed obituary read. "She will not be missed by Gina and Jay, and they understand that this world is a better place without her."
Dehmlow's sister, Judy, described the obit to the Mail as "nasty," and said it had "hurt the family tremendously" before questioning why people are discussing it because "it's not important."
"Not important?" Dehmalo asked. "Sure. They have no idea what we went through and back then, in the '50s and '60s, nobody talked about anything."
The 58-year-old said he and his sister had to piece together information about their family and mother throughout their lives, claiming the two didn't know they had half-brothers until years after they were born.
The rare instances Dehmalo recalls her taking a break from "having a great life in California with her other kids" and visiting them, the two "didn't have so much as a card from her. I remember she came home twice and on one occasion she was showing pictures of her and her kids playing cards, drinking beers."
MOM'S OBITUARY HELPS COPS TRACK DOWN MAN ON THE RUN FOR NEARLY 40 YEARS
"Gina and I were standing in the room, just standing there and she didn't even acknowledge us," the man said. "It's like we didn't exist."
The "revenge obituary" was pulled from the Redwood Falls Gazette and removed from Legacy.com.