Some Oklahoma schools display signs warning staffers could be armed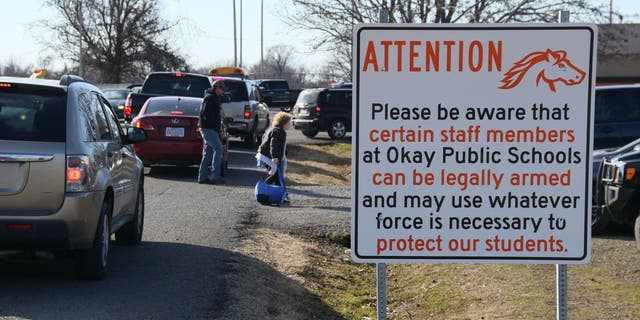 Officials at an Oklahoma school district said they wanted to send a clear warning to protect against potential attacks, so they put up signs on Monday alerting that staff members could be carrying guns.
The signs were erected at public schools in Okay, according to the Muskogee Phoenix. The town's police department was reportedly disbanded in 2014, and even though sheriff's deputies are available, Superintendent Charles McMahan says that may not be enough.
"We don't want to be a soft target," he told the newspaper.
One sign reads, "ATTENTION: Please be aware that certain staff members at Okay Public Schools can be legally armed and may use whatever force is necessary to protect our students."
Other nearby school districts have not enacted such a policy. Porum Public Schools Superintendent Curtis Curry said, "we just don't think it's safe."
Under the policy approved in August for Okay, employees who wish to carry firearms must receive training and Board of Education approval.
The principal of Okay High School, Mark Hayes, reportedly pushed for the new gun policy. "There have been numerous shootings in the country, and we want to keep our students safe," he told the Phoenix. "These are our kids."
Okay is roughly 9 miles north of Muskogee, and 50 miles southeast of Tulsa.
Click for more from the Muskogee Phoenix.