Some displaced from Madison apartments after huge sinkhole are uncertain about their return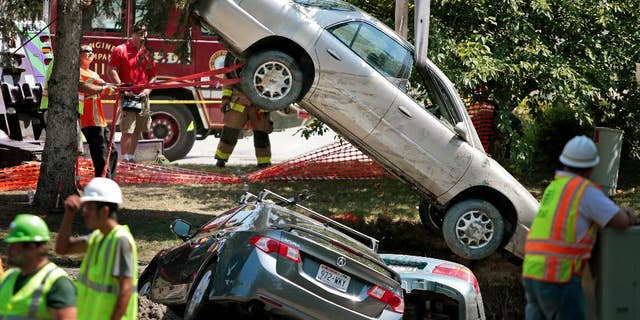 NEWYou can now listen to Fox News articles!
MADISON, Wis. – Some residents displaced from a Madison apartment complex after a burst pipe caused a huge sinkhole are uncertain about when they can return.
Most residents visiting the site Saturday knew little more than what they had seen or read in media reports, according to the Wisconsin State Journal (http://bit.ly/1PtCPXm ).
About 300 residents were evacuated after a water pipe broke, creating a sinkhole that swallowed three vehicles Friday.
Zach Stocke, 25, lives in one of the four buildings. He was awakened by a fire alarm early Friday only to wander outside and watch his 2003 Buick Century be slowly swallowed by a sinkhole that opened up in his apartment building's parking lot.
"Right now there's no power, electricity, it smells like fumes up there so I'm not sure how safe it is," Stocke said. "They said next week, maybe Wednesday or Thursday, we might be able to occupy it again, so that's kind of where we're at right now."
A number listed for Rachel Wagabaza, a regional manager for Banner Property Management, rang unanswered Sunday. The company did set up a temporary office in the garage of a neighboring apartment building.
Residents of two buildings returned Friday night. American Red Cross spokeswoman Barbara Behling says those buildings have electricity, but no water, so Banner has provided portable toilets.
Most of the displaced residents found lodging with friends or family, but two people were put in hotels and residents of 10 units were provided temporary housing at other apartment buildings Banner owns around the city, Behling said. The Red Cross was prepared to use East High School as a shelter, but that never happened.
"From our perspective, it turned out to be a much better scenario than we first thought," Behling said.
___
Information from: Wisconsin State Journal, http://www.madison.com/wsj