Soldier who stole armored personnel carrier sparking Virginia chase claims it was part of training exercise
The Army National Guard officer who stole an armored personnel carrier and led authorities on a 60-mile chase claims he was just following commands from his superiors – a claim refuted by officials on Thursday.
Joshua Philip Yabut, 29, of Richmond, was arrested Tuesday for driving under the influence of drugs and charged with eluding police and unauthorized use of a vehicle, according to Virginia State Police.
The 29-year-old is now being held against his will at Virginia's Central State Hospital, a psychiatric hospital, and told the Associated Press in a phone call Wednesday night he was authorized to take the vehicle on a pre-planned route as part of a training exercise to gauge the police response.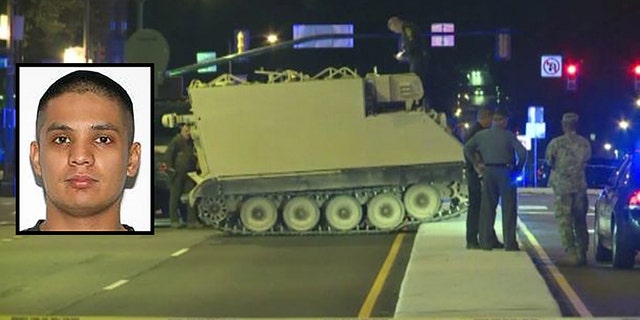 Yabut told the AP his brigade commander, who he declined to name, told him to take the M577 armored personnel carrier from Fort Pickett.
The solider also denied claims by authorities that he was under the influence of drugs during the chase.
"That's a big 'NO' with capital letters," he told the AP.
A spokesman for the Virginia National Guard, A. A. "Cotton" Puryear, disputed Yabut's claim and said the officer was not authorized to drive the carrier off Fort Pickett "to any location for any reason."
After being stolen from Fort Pickett, state police said the personnel carrier was driven east on Route 460 and then north on Interstate 95, hitting a maximum speed of about 40 mph as authorities pursued the vehicle. Yabut eventually surrendered near Richmond City Hall.
VIRGINIA POLICE CHASE STOLEN ARMORED PERSONNEL CARRIER FOR MORE THAN 60 MILES, SOLDIER ARRESTED
Yabut posted photos and video to Twitter while in the military vehicle right before the chase took place.
Minutes after police began their pursuit shortly before 8 p.m., Yabut posted a photo and video of himself in what appears to be the stolen vehicle.
He wrote a series of odd tweets Tuesday, including: "where is this damn water buffalo" ''all i wanna do is get an anime wife" and "wow I think I just discovered a large illegal spy operation in the us government."
The Virginia National Guard said in a news release that Yabut is a first lieutenant assigned as the commander of the Petersburg-based Headquarters Company, 276th Engineer Battalion, and has more than 11 years of service. The 29-year-old was deployed to Afghanistan from 2008 to 2009 with the Illinois National Guard.
While the vehicle was not equipped with any weapons, Yabut did have his personal weapon with him, which had "no ammunition," according to the officials.
"We are extremely grateful that there were no injuries as a result of this incident, and we appreciate the great work of the Virginia State Police, Richmond Police Department and other law enforcement and first responders who safely brought this situation to a close," Maj. Gen. Timothy P. Williams, the Adjutant General of Virginia, said in a news release.
"We have initiated our own internal investigation, and we will determine appropriate actions once the investigation is complete."
In February, Yabut filed papers to run as an independent candidate for the U.S. Senate seat currently held by Tim Kaine, according to the AP. He is due back in court on July 11.
The Associated Press contributed to this report.