Soldier who lost all four limbs offered custom 'smart home'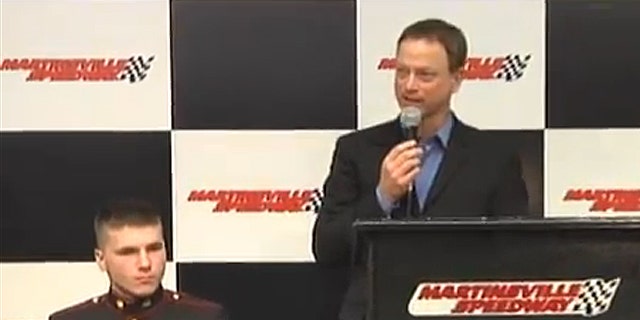 If Staff Sgt. Travis Mills will come, they will build it.
That's the message for the Army soldier who lost his arms and legs to an IED in Afghanistan last week from two charities that build custom homes for injured veterans. John Hodge, director of operations for the Stephen Siller Tunnel to Towers Foundation, said homes built by his group and a foundation run by actor Gary Sinise feature such amenities as geo-thermal heating and cooling systems, iPad-controlled countertops, heated floors to facilitate blood circulation and oversized kitchens and bathrooms.
"Essentially, the houses work off of a computer," Hodge said. "It really is the latest in technology and energy efficiency."
Mills, of Vassar, Mich., was injured on April 10 when he stepped on an IED while serving with the 82nd Airborne in Afghanistan as part of Operation Enduring Freedom. After undergoing surgery in Germany on Monday, Mills is scheduled to arrive at Walter Reed Army Medical Center in Washington, D.C., Tuesday afternoon.
While his wife, Kelsey, told Fox News she expects the family to remain in Washington for at least a year of recuperation, Mills' injuries will require special accommodations in the future. A website dedicated to Mills' status, www.travismills.org, contains updates on his road to recovery and provides links on how to donate money to offset expenses related to his medical care, including some expenses that will not be covered by insurance, according to the website.
The Tunnel to Towers and Gary Sinise foundations are teaming up to build 11 specially-adapted smarthomes for veterans who lost their limbs in the line of duty. Groundbreaking events for three homes will be held in May, including units for Marine Cpl. Juan Dominguez and Pfc. Kyle Hockenberry in Temecula, Calif., and Jefferson City, Mo., respectively.
[pullquote]
The foundations have also completed homes last year for Army Spc. Brendan Marrocco on Staten Island, N.Y., and another is planned for Army veteran Bryan Dilberian in Brooklyn. Sinise, who played a wounded veteran in "Forrest Gump," and his Lt. Dan Band will perform a benefit concert later this month at the Brooklyn Center for the Performing Arts at Brooklyn College to raise money for Dilberian's home, which is expected to cost roughly $750,000. Other homes can reach $1 million.
Marine Cpl. J.B. Kerns, who lost both legs and his right arm last April as a result of a blast from an IED while on his third tour of duty in Afghanistan, said his specially outfitted log cabin in Ararat, Va., is expected to be finished within a year. He told FoxNews.com the "unexpected" gesture has been incredibly helpful during his period of adjustment.
"I'll be able to have my independence and won't need anyone around to help me," Kerns said Tuesday. "My house will help me. I'm pretty stoked. I'm ready for it to be done already."
Mills is believed to be just the fourth quadruple amputee in U.S. military history to survive his injuries. Hodge, whose cousin Stephen Siller ran through the Brooklyn Battery Tunnel on Sept. 11, 2001, to reach the World Trade Center, where he died, said he still becomes emotional thinking about the courage and heroism shown by his cousin and the veterans his organization works every day to serve.
"It's a passion," Hodge said. "It just rips your heart out to see these kids -- and they are kids -- who have such promise and have their whole lives ahead of them, and then this happens. We want to make sure they fulfill their promise and their dreams."
A new home for the Mills' and their four-month-old daughter Chloe could be ready by sometime next year, said Hodge. It could be in their current hometown of Frisco, Texas, or anywhere else.
"Location doesn't make any difference to us," Hodge said. "It's most important that they get to live where they want to for the rest of their lives.
"I told them, 'When you're ready, we are going to offer to build you folks a home. We just wanted to let you know that we're here.'"
Click here to visit the Stephen Siller Tunnel to Towers Foundation website.
Click here to visit the Stephen Siller Tunnel to Towers Foundation Facebook page.