Small Florida town wonders who among them won $590.5 million Powerball jackpot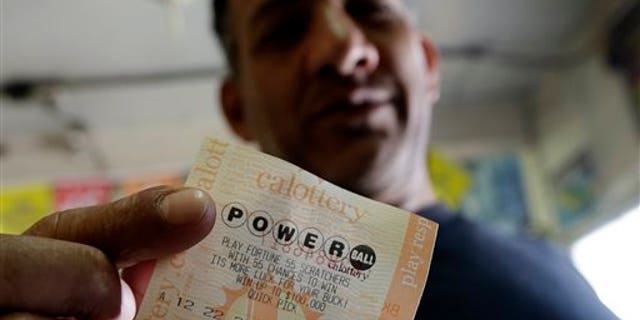 NEWYou can now listen to Fox News articles!
A small Florida town is buzzing with anticipation to find out who won the largest Powerball jackpot in history: an estimated $590.5 million.
The historic ticket was purchased sometime Saturday or earlier at a Publix supermarket in Zephyrhills, a city of about 13,000 people best known around the state for its brand of spring water with the same name.
"We've always been the City of Pure Water," Zephyrhills Mayor Danny Burgess told Fox 13. "For the media to be able to be here and to showcase our town for such a positive, exciting story, I couldn't be more thrilled."
As rumors continue swirling that America's newest multimillionaire is a 26-year-old woman, the winner has 60 days to claim the lump-sum cash option — estimated to be around $376.9 million — at the Florida Lottery's office in Tallahassee. Under Florida law, lottery winners in the state cannot remain anonymous; their names and city of residence must be made publicly available to anyone who asks. No one had come forward as of Monday afternoon, according to the state's lottery website.
"It never happens this quickly," lottery spokesman David Bishop said. "If they know they won, they're going to contact their attorney or an accountant first so they can get their affairs in order."
Gary Cooper, of Zephyrhills, told ABC News he "heard" that a 26-year-old woman had the winning ticket.
Sylvia Campbell, of Zephyrhills, told Fox 13 that the excitement in the small town about 30 miles northeast of downtown Tampa was downright palpable.
"I think it's great," she told the station. "We had a friend call us this morning at 8:00 from North Carolina and said, 'Hey, are you the winner?'"
Danielle Vasquez, of Dade County, said she was shocked at the number of local and national news crews that descended upon the Publix supermarket following Saturday's drawing.
"It's so exciting, this is a-once-in-a-lifetime chance," she told Fox 13. "We drove by earlier; I couldn't believe all the antennas."
The winner wasn't Matthew Bogel. On Sunday, he loaded groceries into his car after shopping at the Publix. He shook his head when asked about the jackpot.
"It's crazy, isn't it?" he said. "That's so much money."
It's an amount too high for many to imagine. Compare it to the budget for the city of Zephyrhills: This year's figure is just more than $49 million. The winning Powerball jackpot is 12 times that.
Publix spokeswoman Maria Brous said there are a lot of rumors about who won, but the store doesn't know. "We're excited for the winner or winners," she said.
Plenty of people in Zephyrhills are wondering whether it's someone they know.
Joan Albertson drove to the Publix early Sunday morning with her camera in hand, in case the winner emerged. She said she bought a ticket at a store across the street, and the idea of winning that much money was still something of a shock.
"Oh, there's so much good that you could do with that amount of money." Albertson said. "I don't even know where to begin."
Zephyrhills is perhaps best known as a hotbed for skydiving activity and for its water bottled from the natural springs that surround the area. And now, one lucky lottery ticket.
"I'm getting text messages and messages from Facebook going, `uh, did you win the lottery?"' Sandra Lewis said. "No, I didn't win, guys. Sorry."
Sara Jeltis said her parents in Michigan texted her with the news Sunday morning.
"Well, it didn't click until I came here," she said, gesturing to the half-dozen TV live trucks humming in the Publix parking lot. "And I'm like, `Wow I can't believe it, it's shocking!' Out of the whole country, this Publix, in little Zephyrhills would be the winner."
With four out of every five possible combinations of Powerball numbers in play, lottery executives said Saturday that someone was almost certain to win the game's highest jackpot, a windfall of hundreds of millions of dollars — and that's after taxes.
The winning numbers were 10, 13, 14, 22 and 52, with a Powerball of 11.
Estimates had earlier put the jackpot at around $600 million. But Powerball's online site said Sunday that the jackpot had reached an estimated $590.5 million.
The world's largest jackpot was a $656 million Mega Millions jackpot in March 2012.
Terry Rich, CEO of the Iowa Lottery, initially confirmed that one Florida winning ticket had been sold. He told The Associated Press that following the Florida winner, the Powerball grand prize was being reset at an estimated jackpot of $40 million, or about $25.1 million cash value.
The chances of winning the prize were astronomically low: 1 in 175.2 million. That's how many different ways you can combine the numbers when you play. But lottery officials estimated that about 80 percent of those possible combinations had been purchased recently.
The longshot odds didn't deter people across Powerball-playing states — 43 plus Washington, D.C., and the U.S. Virgin Islands — from lining up at gas stations and convenience stores Saturday.
Clyde Barrow, a public policy professor at the University of Massachusetts-Dartmouth, specializes in the gaming industry. He said one of the key factors behind the ticket-buying frenzy is the size of the jackpot -- people are interested in the easy investment.
"Even though the odds are very low, the investment is very small," he said. "Two dollars gets you a chance."
Lewis, who went to the Publix on Sunday to buy water, said she didn't play -- and she isn't upset about it.
"Life goes on," she said, shrugging. "I'm good."
The Associated Press contributed to this report.
Click for more from MyFoxTampaBay.com.