Slender Man stabbing victim slept with scissors under her pillow, mother says
The mother of a Wisconsin girl who survived a stabbing in 2014 by her two classmates aiming to please the fictional horror character "Slender Man" said her daughter slept with scissors under her pillow following the brutal attack.
Stacie Leutner wrote in a victim impact statement that her daughter, Payton, was a different person following the brutal attack on May 31, 2014, FOX6 reported. Her classmates, Anissa Weier and Morgan Geyser lured Leutner into the woods at a park in the Milwaukee suburb of Waukesha and attacked her. Investigators alleged Geyser stabbed Leutner 19 times while Weier urged her on.
Weier and Geyser told detectives they felt they had to kill Leutner to become Slender Man's "proxies," or servants, and protect their families from him.
Leutner survived the attack by crawling out of the woods, where she was found by a passing bicyclist. All three girls were 12 years old at the time.
PROSECUTORS: KEEP 'SLENDER MAN' ATTACKER IN MENTAL HOSPITAL 40 YEARS
Stacie Leutner wrote in the letter that her daughter has very visible scars following the stabbings and had to undergo multiple surgeries. She said her daughter was reminded of the attack from the scars.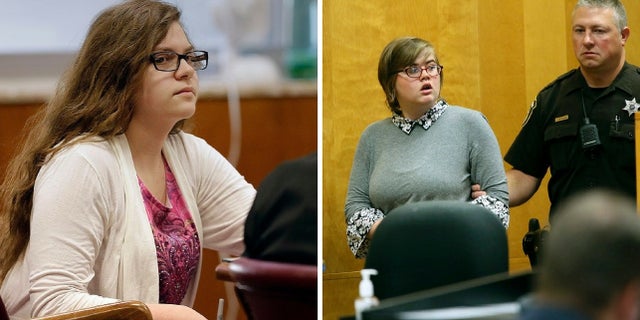 "Beach vacations are harsh reminders that swimsuits aren't made for young girls with 25 scars," Leutner wrote.
The mother wrote that her daughter's emotional trauma would "remain with her for a very long time." Leutner said Payton would not speak to anyone but her for months and was afraid to sleep in her own bed. She also said her daughter was afraid of the basement because "the last time Morgan was at our house the basement rec room was where they played and slept."
Her daughter eventually slept in her own bed but always locked the windows and slept with scissors underneath her pillow.
WISCONSIN GIRL TO AVOID PRISON IN 'SLENDER MAN' STABBING WITH PLEA AGREEMENT
However, the mother wrote her daughter recovered "remarkably fast" and participated in various activities and made new friends. Leutner wrote the attack affected her marriage and her son, Caden, was also impacted by the incident.
Leutner concluded the letter by revealing that her family did not object to plea deals for Geyser and Weier because she did not want her daughter to testify again since she has not spoken about the attack. The mother also said Payton felt "placement in a mental health facility was the best disposition for both girls," but the girl still feared for her safety.
On Thursday, Weier was sentenced to 25 years in a mental health facility — the maximum punishment possible.
Geyser will be sentenced in February.
The Associated Press contributed to this report.