Slain Kansas City attorney's wife says children afraid to go outside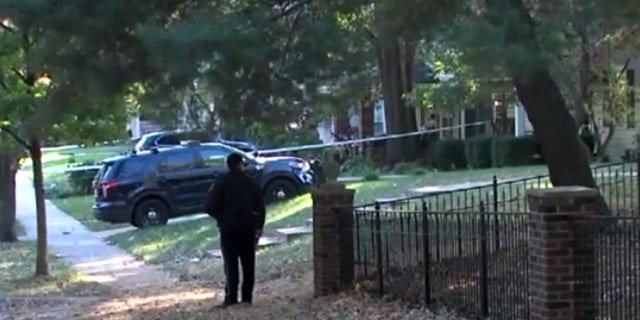 The wife of a Missouri lawyer who was mysteriously gunned down in front of his home says her children are scared to go outside as police have yet to identify a suspect.
Thomas Pickert, a 39-year-old personal injury lawyer, was killed Wednesday in the upscale Brookside area of Kansas City. Police said Pickert's wife heard a gunshot and then found her husband fatally injured outside.
"She said…'I want to tell Tom's story. I want everyone to know the kind of person that he was and what he means to our family,' but she said 'I just don't have the capacity to do it now,'" Jill Chadwick, a spokesperson with the University of Kansas Health System, where Pickert's wife Emily Riegel worked, told FOX4 KC on Thursday.
Riegel, a palliative care doctor, said her children were still scared to go outside. Pickert was shot in the front yard of the home moments after he walked his children to school, The Associated Press reported.
Investigators had interviewed a man who owns a white van seen in the neighborhood at the time of the shooting. Media reports indicated Pickert recently won a $5.75 million judgment against that man. But police spokeswoman Kari Thompson said Thursday the man is not a suspect in Pickert's death.
Thompson provided no other details about the investigation, according to The Associated Press.
"It is shocking. It's very sad and it's a tremendous loss. I think it's a reminder for all of us that we need to be thinking about the quality of the lives that we live, what we can do to make our communities better and safer and to think more broadly about the kind of crime that's impacting the community right now all over the place," Dan Cranshaw, who attended a two-year leadership academy with Pickert through the Greater Kansas City Chamber of Commerce, told FOX4 KC.
The family is still arranging a funeral and neighbors are shaken over the shooting.
"I was just shocked. I was stunned," Deborah Carlton told KMBC. "We can't be afraid, but we also have to get the information and find out if there was a connection to something."
Added neighbor David Wesley: "I really feel for them as neighbors. I trust and hope this community here will embrace them and gather around them right now."
The Associated Press contributed to this report.