Skakel seeks sentence reduction for Conn. murder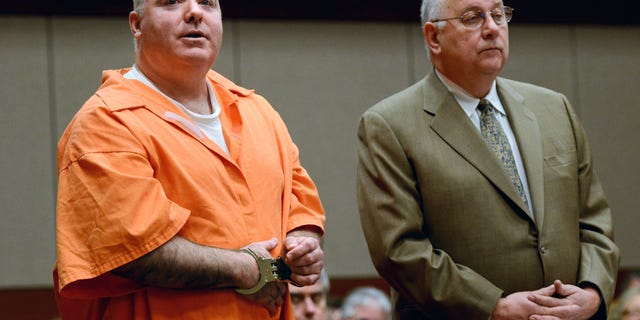 MIDDLETOWN, Conn. – Kennedy cousin Michael Skakel on Tuesday again insisted on his innocence in a 1975 killing, as he pleaded with a three-judge panel to reduce his prison sentence of 20 years to life.
Skakel's lawyer, Hubert Santos, argued in Middletown Superior Court that the sentence Skakel received after his 2002 murder conviction in the beating death of Martha Moxley when the two were teen neighbors in wealthy Greenwich was excessive. Santos repeated his claim, which has been rejected by other state courts, that Skakel should have been tried in juvenile court, where the maximum sentence for a murder conviction would have been four years.
"Give me a polygraph," Skakel told the judges. "I've passed three sodium pentathol tests. I don't know what else to say."
Skakel's lawyers didn't ask for a specific sentence reduction.
Skakel, 51, a nephew of Robert F. Kennedy's widow, Ethel Kennedy, wore an orange prison jumpsuit as he spoke to the three judges, who are expected to issue a ruling in about two months. He was handcuffed and his legs were shackled.
Members of both the Skakel and Moxley families were in the courtroom as Skakel said he prayed for Moxley's mother, Dorthy Moxley every day.
"I told Mrs. Moxley if I killed Martha I would take responsibility for it," Skakel said. "I didn't commit this crime."
Dorthy Moxley and her son, John, both called Skakel's words "hollow" and said he got the prison sentence he deserved.
"Michael belongs in jail for the rest of his life," John Moxley told the judges.
Speaking after the hearing, Dorthy and John Moxley said that they were upset that the case keeps returning to court, adding that they have to relive Martha's killing every time.
The state Supreme Court ruled in 2010 against Skakel's bid for a new trial, saying a claim implicating two other men in the killing wasn't credible. The U.S. Supreme Court refused to hear the case. Skakel currently has a habeas corpus appeal pending in state courts, alleging his trial attorney, Michael Sherman, did a bad job.
"It's getting a little frustrating and getting a little old," Dorthy Moxley said. "I'm so convinced Michael did this. He made us suffer for ... 26 ½ years."
Martha Moxley was beaten to death with a golf club in her neighborhood when both she and Skakel were 15 years old. Skakel was arrested in 2000.
Prosecutor Susann Gill said if Skakel was arrested when he was a teenager, his case could have been transferred to adult court and he would have faced the same prison sentence he is now serving.
Gill told Judges Gary White, Joan Alexander and Brian Fischer that the judge who sentenced Skakel considered arguments similar to those made by Skakel's lawyers Tuesday when he imposed the punishment in 2002. She said the sentence Skakel received was appropriate.
"He should have come forward and taken responsibility for this crime in 1975," Gill said.
Skakel also talked about his 13-year-old son during his speech, and how "being in prison it's hard to be a father."
John Moxley said Skakel was using his son as a "shield" in his arguments.
Skakel's brother, Stephen, said outside the courthouse that his family fully supports his brother and believes he is innocent.
"We're still hopeful," Stephen Skakel said about his brother's appeals.