Sign supporting Second Amendment gets high school student booted from anti-violence walkout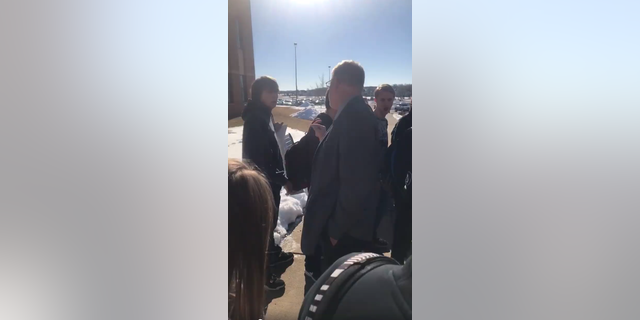 A Minnesota high school student was booted off campus by the school's principal, reportedly over a pro-Second Amendment sign that he brought to a school walkout against gun violence on Wednesday.
The New Prague High School student brought a sign reading "Guns don't kill people, people kill people," that prompted his principal, Lonnie Seifert, to escort him off school grounds, the Jordan Independent reported.
Approximately 100 students from the school participated in the National School Walkout calling for stronger gun control.
Another student at the Minnesota walkout, Kenny MacDonald, shared a video on social media showing the incident involving his fellow student, which had been viewed over 4 million times by Thursday evening.
In the footage, the principal is seen approaching the student with the sign and escorting him from the protest. The principal reportedly threatened to put the student in a police car.
MacDonald claims other students with pro-gun signs such as "Arm our teachers" were allowed to remain during the walkout.
The school district released a statement following the controversy, saying the student was not disciplined. It added that any signs featured at the protest had to be approved by the school administration at least 24 hours in advance.
According to the district, the student did not follow the procedures to get the sign approved and therefore it had to be moved to "non-school grounds" in compliance with the district's policy "to protect the exercise of students' and employees' free speech rights, [while] taking into consideration the educational objectives and responsibilities of the School District."
The statement added the school "fully respects and recognizes that students have free speech rights," but noted that it "has an obligation to enforce the policy, which is known as a 'time, place, and manner restriction.'"
Thousands of students across the nation walked out of classrooms on Wednesday – the one-month anniversary of the Parkland, Fla., school shooting that left 17 dead – to protest gun violence and urge lawmakers to pass new gun control measures.