Sheriff Scott Israel battling calls to resign as blame shifts in wake of Florida high school shooting
The vocal sheriff who has criticized everyone from local politicians to the NRA to one of his own officers in the wake of the Florida high school shooting is facing the pressure himself Monday, as calls mount for him to resign amid reports about his department's alleged incompetence in stopping the gunman.
The heat against Broward County Sheriff Scott Israel is coming from all angles, including from a survivor of the attack who told Fox News that he "failed to act on so many different levels" and from dozens of state lawmakers who are urging Florida Gov. Rick Scott to suspend him.
"Listen, if ifs and buts were candy and nuts, O.J. Simpson would still be in the record books," was Israel's bizarre defense Sunday after being asked by CNN's Jake Tapper if the shooting might not have happened if his department handled things differently.
The comment came following disputed reports that three of Israel's officers refused to enter Marjory Douglas Stoneman High School as Nikolas Cruz was killing 17 people in the Valentine's Day rampage.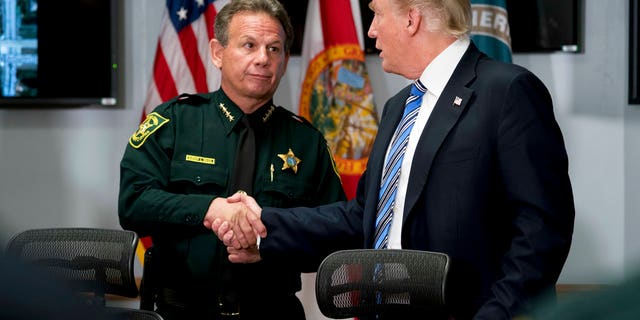 A deputy in charge of protecting the school, Scot Peterson, resigned Thursday after it emerged he himself failed to go into the building, taking shelter behind a concrete column for four minutes as the 19-year-old gunned down anyone in his path. And the Broward County Sheriff's Office, in addition to the FBI, is continuing to face questions Monday as to why they didn't do more when multiple people sounded the alarm about the gunman's erratic behavior.
"Deputies make mistakes. Police officers make mistakes. We all make mistakes," Israel told CNN. "But it's not the responsibility of the general or the president if you have a deserter. You look into this. We're looking into this aggressively. And we'll take care of it and justice will be served."
Israel said during the contentious interview that he has offered "amazing leadership to this agency," adding "you don't measure a person's leadership by a deputy not going in to — these deputies received the training they needed."
Israel also appeared to contradict his own department regarding the reports of Broward deputies not entering the school.
In the CNN interview, Israel slammed a letter from State Rep. Bill Hager to Gov. Scott, which called for his removal on the basis of inaction after at least 23 -- and perhaps almost 50 -- police visits to the shooter's home and the reports of his officers standing idle. Israel said the demand was a "shameful, politically motivated letter that had no facts." He also said in a letter to Scott on Saturday that Hager's claim that "three Broward Sheriff Deputies were on campus at the time of the attack and chose to take cover themselves rather than stepping up to protect students" is "patently false."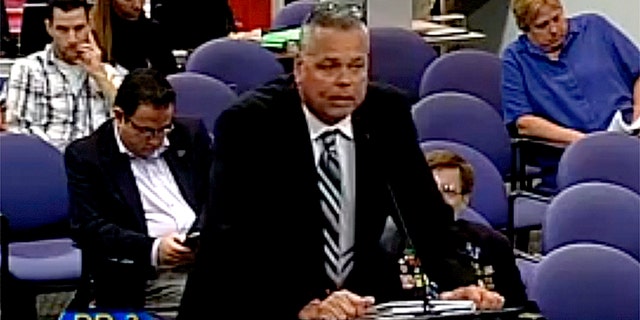 But the sheriff's own office, in its latest official statement released Saturday at the same time they disclosed Israel's letter to Scott, said the reports are still being investigated.
"It's a claim being investigated to determine if further action is warranted," the statement said.
Hager isn't the only official calling for Israel's ouster. Florida House Speaker Richard Corcoran, who sent a letter to Scott on Saturday signed by 73 Republican colleagues, wrote that in the "years leading up to this unspeakable tragedy, Sheriff Israel, his deputies, and staff ignored repeated warning signs about the violent, erratic, threatening and antisocial behavior of Nikolas Jacob Cruz."
Scott – who has already called for FBI Director Christopher Wray to resign amidst the bureau's own investigative blunders in the months leading up to the attack – said Sunday that the police response will be scrutinized. He has yet to say Israel should step aside.
"I have asked for FDLE [Florida Department of Law Enforcement] to immediately investigate the law enforcement response and will continue to review this matter as more facts come out," he said. "There must be an independent investigation and that is why I asked the FDLE Commissioner to immediately start this process."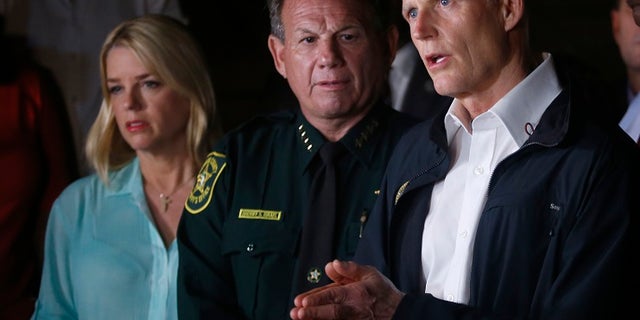 Israel, in his war of words with lawmakers, got in the first volley a day after the shooting, saying local politicians who do not push for new gun laws "will not get reelected."
"If you're an elected official, and you want to keep things the way they are, and not do things differently, if you want to keep the gun laws as they are now, you will not get re-elected in Broward County," Israel said to cheers during a candlelight vigil.
Days later, during a fiery televised town hall event marred by outbursts and shouting from an emotional crowd, Israel also took aim at the National Rifle Association.
"You just told this group of people that you are standing for them. You're not standing up for them until you say 'I want less weapons'," he told NRA Spokeswoman Dana Loesch, drawing a standing ovation from many of those in attendance.
Israel was later ripped by the NRA on Twitter.
"No Sheriff Israel you were the one that didn't PROTECT these children and that is your job. You run the largest fully accredited sheriff's office in the United States, yet your office failed this community," the organization wrote.
Staff began returning to Marjory Stoneman Douglas High School on Monday to plan for the school's reopening this week.