Sheriff: Baby in diaper box may have died of natural causes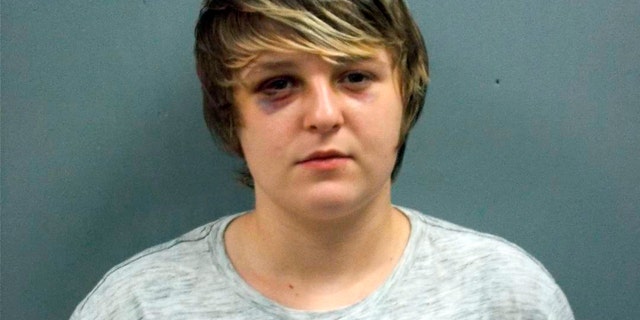 COLUMBIA, S.C. – An 11-month old baby found dead inside a plastic bag in a diaper box, in a field full of briars in South Carolina, may have died of natural causes, an emotional sheriff said Thursday as he tried to balance his feelings for the baby with his oath to justice.
The child's mother initially said a stranger knocked her unconscious and stole the child from her arms as she checked the mail. But by the time an Amber Alert for the baby buzzed on cellphones across the state Tuesday, detectives were showing Breanna Lewis a picture of the diaper box, Chesterfield County Sheriff Jay Brooks said.
"She denied knowing where the baby was until we took a picture of that diaper box and showed it to her, and then she began to tell some of the story," Brooks said at a news conference Thursday.
Lewis, 19, is currently charged with filing a false police report and improper disposal of human remains. The sheriff is awaiting a coroner's autopsy before deciding if other charges should be filed. Jail officials did not know if she had a lawyer.
The sheriff speculated that it is possible Harlee Lewis suffocated while sleeping in a crib full of blankets and toys, or died of some other natural cause. He said her mother, who appears to have mental problems and told deputies she blacks out when under stress, may have panicked.
"I can't promise you we'll charge her with murder," the sheriff said. "Everyone on Facebook wants us to hang her from a flagpole, but that can't happen."
The baby was last seen alive Tuesday morning when Lewis' girlfriend went to work, Brooks said, and Lewis called 911 about seven hours later.
Brooks seemed on the verge of tears several times in his news conference. He talked about how his deputies walked in ever-increasing circles in the stifling afternoon heat around a field full of dead trees, thick weeds and briars so thick and sharp "it would take your clothes off walking through it."
Finally, some 1,000 yards (914 meters) from the baby's Chesterfield home, they saw the bright box, not faded from the sun or rain. The baby was inside it, stuffed in a garbage bag.
"How do you put a dead child in a garbage bag and just throw it away?" Brooks said.
Deputies initially believed Breanna Lewis' story. She was hysterical, and had a puffy face and a black eye like she was attacked. She has been in a custody dispute with the family of the child's father, who killed himself in front of them last October, the sheriff said.
But the more Lewis told her story, the less sense it made. "Every time she told it, it began to unravel. It became different," the sheriff said. It turned out that her face had been injured in a single-car crash, days before.
Bond on all the charges was set at $71,000. Brooks said he will work with prosecutors to quickly get a mental exam if it looks like Lewis is going to get out of jail, "but unless I'm missing my guess, I don't think they can come up with $71 quickly."
The sheriff is getting counseling for the deputies who found the baby and any other officers who need it. After more than 40 years in law enforcement, he says he knows too well how a dead child's face never leaves an officer's mind.
"When you are as old as I am and you've see a hundred, it makes sleeping a challenge," Brooks said.
The sheriff also encouraged his county of 46,000 to come together to give Harlee the peace in death she didn't enjoy in her short life.
"Let's give this child a decent funeral," Brooks said. "I'm not sure how decent her life was."
___
Follow Jeffrey Collins on Twitter . See his work at apnews.com