She guarded Trump's star, but still hasn't saved herself from LA streets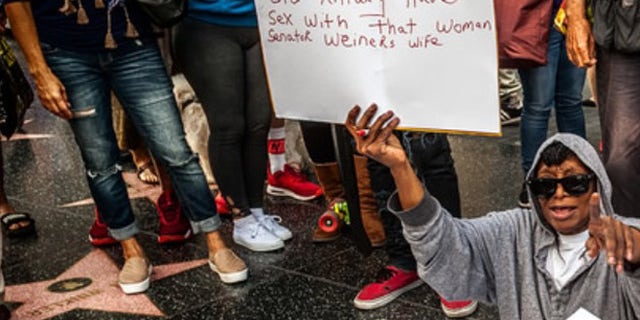 On the morning of Oct. 27, soon after a pickax-wielding man demolished Donald Trump's star on the Hollywood Walk of Fame, a woman in a gray sweatshirt arrived on the scene to protect the vandalized monument.
She carried a number of handwritten signs in support of the then-presidential candidate. "20 Million Illegals and Americans Sleep on the Streets in Tents. Vote Trump," read one. "Obama Threw Us Under the Bus," read another.
"I'm gonna stay here and watch this and make sure nobody touches it," the woman was quoted as saying.
But before long she was surrounded, harassed and cursed at. A man tore up her signs, and — with a growing crowd of tourists, passersby and the media watching — she wound up lying on the pavement. A bystander recorded the incident and posted it on YouTube.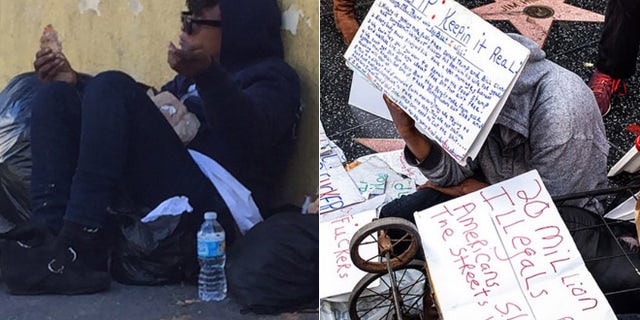 The woman's name remained unknown for a few days, until police located her. They identified her as Denise Scott, a 69-year-old homeless woman living on the streets of Los Angeles.
But despite the efforts of more than 1,000 Americans who are trying to help her, including President-elect Trump himself, she may stay that way. You can't solve the problem of homelessness with money alone.
Rescuing Denise Scott has provided a "big lesson in the epidemic of homelessness," said Justin Best, a U.S Marine living in Florida who launched a GoFundMe page that so far has raised $38,555 to help Scott.
The crowdfunding campaign is designed to provide Scott with immediate and affordable housing, medical treatment, food supplies, clothing, employment assistance and any needed personal identification. If there is a surplus, it will be put in a secure account for her future needs.
Among Scott's supporters is Trump himself, who inquired about her before she was identified. His attorney, Michael Cohen, tweeted at the time that Trump had a "gift" for the woman, and that he was looking for her.
But how do you help people in need when they reject all efforts to help them?
"I had no idea how difficult this would become," Best said. "We would find Denise, but then she would disappear again. People are very committed to helping her, but she goes back and forth between deciding she wants our help and doesn't."
Lisa McQuaige, a gospel singer with a college background in finance who volunteered to take a "conservator role" and manage the donated monies, is equally frustrated.
"Sometimes Denise treats me as her friend, but most of the time she looks at me like I am her enemy," McQuaige said. "Denise knows she has a lump sum of money waiting, and she wants it all at once. But that would be a disaster."
Just before Christmas, McQuaige set Scott up in an extended-stay room in south L.A. She booked the room for two weeks and bought her groceries. But on the second day, McQuaige said, Scott took the groceries and returned to the streets.
With McQuaige's help, FoxNews.com found Scott last week, hunched over in her Trump/Pence hoodie, living on a patch of cement on the streets that have been her home for years.
She said she was born in Philadelphia and has been homeless for a decade. And she described herself as a lifelong Republican — "Black people came from the Republican party" — and said she sides with Trump on the issues of illegal immigration and repealing ObamaCare.
"We need to put Americans first," she said. "And good doctors don't want to be doctors anymore. It has destroyed the health industry."
But she soon went into a fog, succumbing to whatever substances she had inside her. Linda Evans, a case manager for the Center for Community Health Downtown Los Angeles, said she had cab vouchers in hand for Scott to return to the clean and private room McQuaige had arranged for her, but Scott chose not to go at the last moment.
Skid Row, with its overflowing trash bags, blankets, wheelchairs, strung-up sheets and suitcases that serve as pillows, is home to thousands of homeless men and women in Los Angeles. There are far too many drug-making dens and just a smattering of services to provide health care and meal supplies.
On some corners, there's a communal party atmosphere with rap music and street dancing. But on others, there's fighting and violence, and they are getting worse. Just last week, a homeless person's throat was slashed while leaving the clinic. It wasn't an anomaly, Evans said.
Evans said the drug of choice on Skid Row is a concoction of laboratory-produced chemicals called "spice" or "fake pot" that mimics the psychoactive component of cannabis. Bad batches have seriously sickened and even killed some users in recent months.
McQuaige said she remains confident that Scott will somehow come around — but she stressed the importance of rehabilitation, patience and helping the homeless sever ties to the addiction of homelessness itself. Cohen, Trump's attorney, said the president-elect remains steadfast in his determination to help Scott and that the funds are being accumulated by counsel in California, though it's still unclear how the money will be distributed.
"I want to see Denise beside Trump someday," McQuaige said. "But ending her homelessness is going to take much more than money….
"I love Denise's passion. She calls Trump the cool white boy and she sees him as someone who is going to get things done in this country. She's very smart and articulate; she could someday be a great voice for the homeless."