Sharks spotted off Southern California coast prompt warning for beachgoers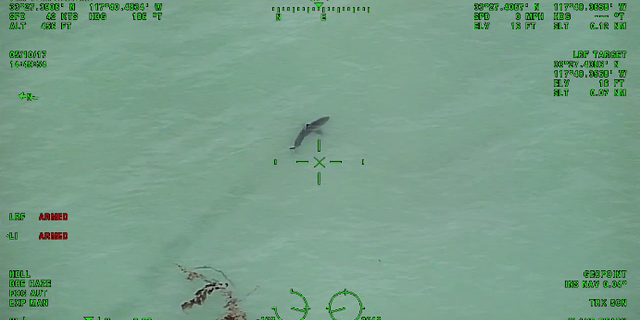 As many as 15 great white sharks crept in along the coastline of Southern California, prompting emergency officials to warn paddleboarders: "Exit the water in a calm manner."
Aerial video showed sharks swimming near the coastline between Capistrano Beach and San Onofre State Beachon Wednesday afternoon. The Orange County Sheriff's Department issued a two-day warning for surfers and swimmers.

"You are paddleboarding next to approximately 15 great white sharks," a law enforcement officer said. "Please be advised that the area is heavily populated at the moment with large, great white sharks, some of which are in the surfline."
Beachgoers were urged to stay out of the water after the spotting. On Thursday, they could enter the water "at their own risk." The advisory is set to remain in effect through Friday and beaches will remain open, OC Lifeguards wrote on Facebook.
The swarm of sharks were south of San Onofre State Beach, where a shark bit a woman on April 29, according to The Orange County Register. A shark was also spotted on the beach's surf break "displaying aggressive behavior" on Wednesday, according to the Marine Corps Community Services at Camp Pendleton.
SHARK MAULS TRAINED SHARK-SPOTTER BODYBOARDING OFF FRENCH ISLAND
OC Lifeguards Chief Jason Young told the Orange County Register that there have been no reports of beachgoers coming into direct contact with a shark.
"We haven't had any reports of anyone being bumped or charged, just observations of them either swimming or breaching," Young said.
VIDEO: SHARKS DYING BY THE THOUSANDS IN SAN FRANCISCO BAY
Experts believe sharks are attracted to areas along the Southern California coast because they are "hot spots."