Severe storms leave widespread damage, thousands without power and one reported death in Southeast
Severe weather ravaged the Southeast on Monday night, leaving behind widespread damage, thousands without power and at least one reported death.
The line of storms blew through Alabama first, spawning at least one confirmed tornado that slammed Jacksonville State University and the area around it.
Alabama state troopers said the damage in Jacksonville left the city looking like a "war zone" as strong winds downed trees and damaged buildings – including Jacksonville State's arena. The National Weather Service confirmed a "damaging and possibly large tornado near Jacksonville and Calhoun counties and was moving east."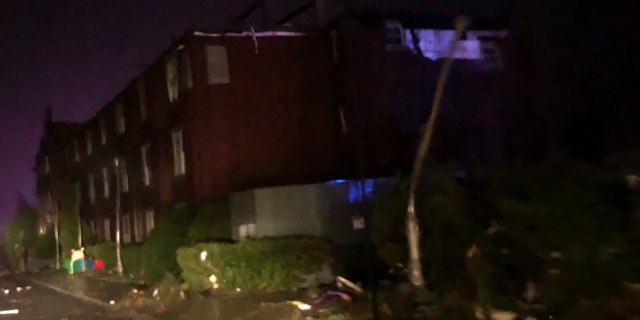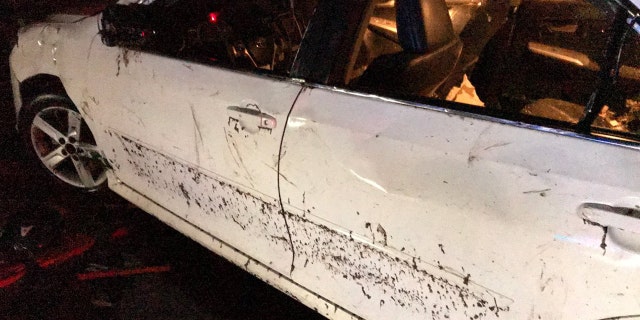 Jacksonville State University Athletic Director Greg Seitz wrote in a tweet that there was significant damage to campus, including to the newly renovated Pete Mathews Coliseum.
"I can confirm we have major roof damage at Pete Mathews Coliseum, but The Pete is not completely destroyed," Seitz said.
Tuscaloosa County Sheriff's Office Lt. Andy Norris said in a tweet that troopers called Jacksonville a "war zone." He said the arena's roof "took major damage."
Three other tornadoes were reported in northern Alabama and confirmed by the National Weather Service in Huntsville.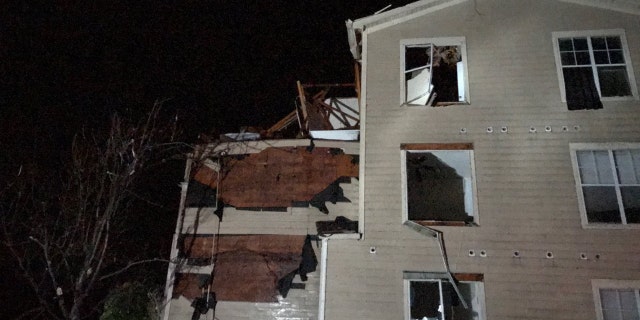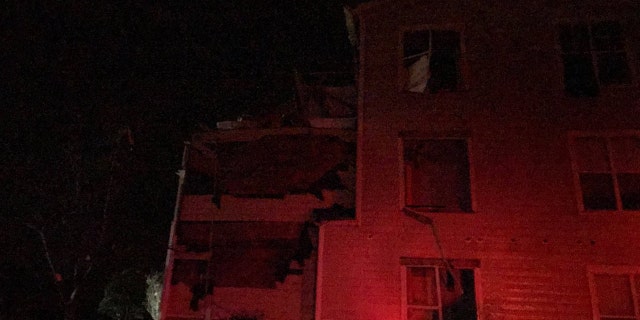 Alabama Emergency Management said in a tweet that Cullman police and the Cullman Sheriff's Office received "extensive damage" to patrol cars. Cullman Area Rural Transportation Services also had "extensive damage to almost all buses," according to the agency.
Alabama Power said around midnight that around 15,000 customers were without power.
Alabama Gov. Kay Ivey said in a statement there was "significant damage" throughout the state.
"There has been significant damage tonight in parts of Alabama. We are sending state resources to those affected areas, especially to Jacksonville and Calhoun County. We will continue to monitor and respond to needs in other areas as needed," she said.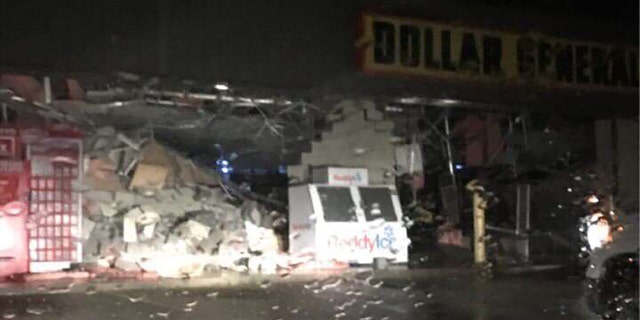 The severe weather left at least one dead in Georgia and another severely injured.
An off-duty Georgia state trooper was killed and his daughter was hospitalized as the storms tore through the state, Fox 5 Atlanta reported. The girl's condition wasn't immediately known.
A trucker driver riding through Tallapoosa told the station that he had thought he had ran out the storm that was ravaging through Alabama. However, the driver got stuck between two downed trees and told the station that he was a bit shaken up.
A Fulton County family had their trampoline tossed onto their playhouse in their backyard, according to Fox 5 Atlanta.
At least 26,000 customers were without power as of early Tuesday, according to Georgia Power.