Semi-truck slams into Wisconsin police officer's vehicle after running red light
A police officer in Wisconsin miraculously managed to escape injury Monday when a semi-truck hit a patch of ice and slammed into the cop's vehicle, stunning video showed.
The incident happened around 9:30 a.m. as the officer was entering the intersection, Ashwaubenon Public Safety wrote on Facebook. The truck driver was attempting to stop, but hit a patch of ice and slid into the officer's vehicle.
The crash was captured on a dashcam video because another cop was following the police vehicle that was hit.
"When you're looking at the video it does appear that the truck was moving quite fast," Captain Jody Crocker of Ashwaubenon Public Safety told FOX11. "The main thing there is the fact he had a red light. He should have been driving under the conditions where he'd be able to stop as that light was turning red."
DRIVER MIRACULOUSLY SURVIVES TERRIFYING OHIO FREEWAY CRASH
The impact of the crash sent the patrol car into the median of the roadway. The officer was initially trapped inside the vehicle, but eventually was able to get free, uninjured, police said.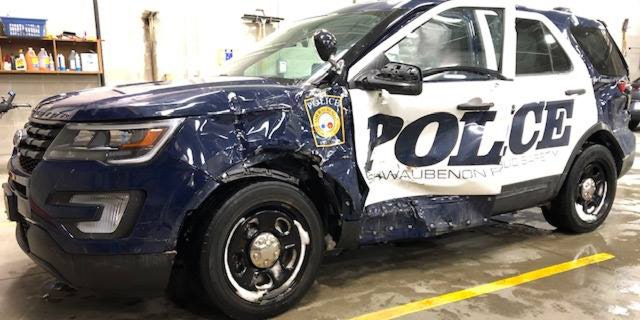 "This is a good reminder to drive within safe speeds so you are able to stop and/or avoid crashes when conditions deteriorate," the department said in a Facebook post.
NORTH DAKOTA COP HONORS FALLEN OFFICERS, K9S DURING SNOWSTORM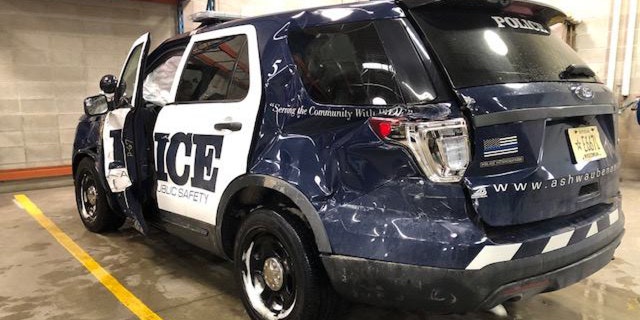 The driver of the truck involved in the crash was cited for operating too fast for conditions. The crash closed the roadway for 2 1/2 hours, according to police.
CLICK HERE FOR THE FOX NEWS APP
"There should be no reason any vehicle can't stop for a red light, can't slow down and yield at the yellow," Crocker told FOX11.