Thursday's deadly crash on Interstate 40 in New Mexico happened after a sem-trailer -- which slammed into a Greyhound bus, resulting in eight deaths -- lost the tread on one of its front tires, authorities said Saturday.
An official with the National Transportation Safety Board said earlier Saturday that his agency was intensifying its examination of the semi-trailer's front tires.
The tires will be sent to the NTSB offices in Washington for further examination, said Peter Kotowski, a senior investigator.
The NTSB has also asked for the medical records and toxicology reports about the driver of the semi-trailer owned by Jag Transportation of Fresno, Calif., and the bus, Kotowski said.
The electronic data recorders for the semi-trailer and bus have been recovered, he added.
The agency has talked to survivors of the crash and is seeking an interview with the driver of the semi-trailer, Kotowski said.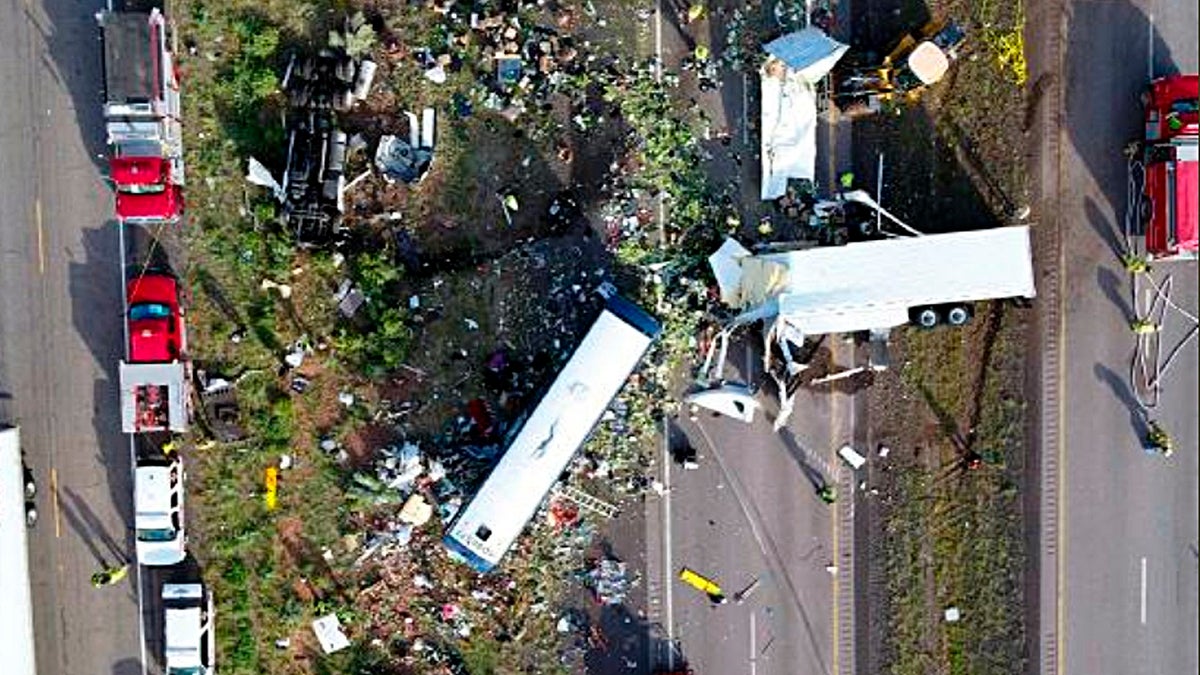 Meanwhile, authorities said they have identified five of the eight victims of the crash near Thoreau, N.M.: Sadie Thomas, 50; Charla Bahe, 34; Terry Mason, 45; Veronica Williams, 49; and Greyhound bus driver Luis Alvarez, 50, the Albuquerque Journal reported, citing the state Office of the Medical Investigator.
The office did not provide the victims' hometowns.
"My heart goes out to the families of these victims. We are always diligent to try and identify decedents quickly so we can release them back to their families," Dr. Kurt Nolte, chief medical investigator, told the Albuquerque Journal. "We know there are other families who are still waiting for word of their loved ones and we are using several identification methods to make those identifications."
Chief Pete Kassetas of the New Mexico state police told the Arizona Republic that it was the worst fatal collision in his experience.
"It will be weeks or months until we get down to the exact causation of this crash," Kassetas said.
Jag Transportation could not be reached for comment Satruday, according to the Journal.