Section of bridge collapses on Oklahoma City expressway after struck by truck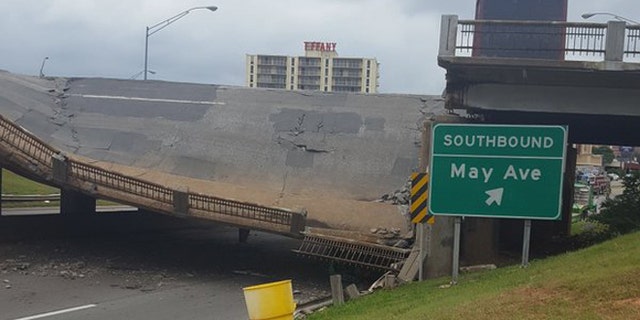 NEWYou can now listen to Fox News articles!
A section of a bridge collapsed onto an expressway in Oklahoma City Thursday after it was struck by a semi-truck, officials said.
Police told Fox 25 a flatbed semi-truck driving on the Northwest Expressway carrying a "boom lift" struck a portion of the May Avenue bridge, causing it to collapse.
Video from the scene showed the semi-truck trapped under the debris, but police said the driver was not injured.
"A semi made contact with the bridge and it collapsed — we're not sure what the cause of him crashing into the bridge was," Oklahoma City police Sgt. Ashley Peters said.
The May Avenue Bridge crosses over Northwest Expressway, also known as Oklahoma Highway 3, in a heavily populated area.
May Avenue and all lanes of traffic on the expressway were closed afterward, Peters said.
District Fire Chief Benny Fulkerson told the Associated Press the bridge will be closed indefinitely and will "likely be completely rebuilt."
Oklahoma City spokeswoman Kristy Yager said May and the expressway will remain closed "until further notice," and that signs are in place to show detours.
Engineers are investigating the damage and no estimate on how long repairs might take will be available until they're done, Yager said. She also said it will be at least Friday before an estimate is made on when the roadways will reopen.
All lanes of the Northwest Expressway were shut down as a result of the collapse, which led to heavy traffic in the area.
The Associated Press contributed to this report.