Second hostage shot in Louisiana bank standoff dies in hospital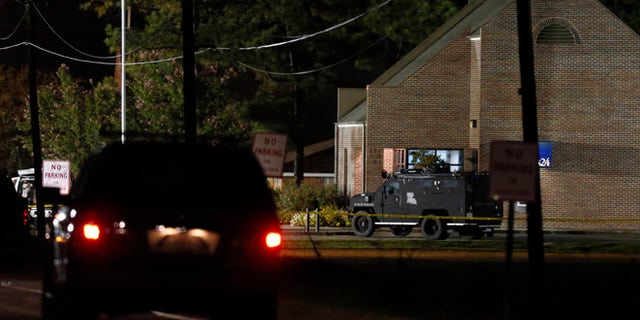 ST. JOSEPH, La. – A second hostage shot during a standoff at a rural Louisiana bank died Thursday at a hospital.
LaDean McDaniel was one of three bank employees taken hostage Tuesday by 20-year-old Fuaed Abdo Ahmed. Ahmed released one of the hostages during negotiations.
McDaniel died Thursday morning at Rapides Regional Medical Center in Alexandria, said hospital spokeswoman Charla Ducote. Police say Ahmed shot her and Jay Warbington when police stormed the Tensas State Bank in St. Joseph. Ahmed was shot and killed by police.
Ahmed had told police he planned to kill the hostages before officers came into the bank.
Authorities say Ahmed was angry and believed his ex-girlfriend's family had been responsible for their breakup and for putting a device in his head, according to a letter found in a van parked near the bank. The letter detailed his plan to take employees hostage and had a list of demands, including safe passage to another country.
The mayor of the small town of 1,200 near the Mississippi border said he has heard from a lot of angry residents.
"The healing process is going to take time," Mayor Edward Brown said.
Two neighbors said they heard gunshots from near Ahmed's house Monday and Tuesday before the standoff, but didn't think it was unusual enough to call police.
During the standoff, Ahmed grew increasingly erratic as negotiations went on, and sometimes he hung up on police. One of his demands to authorities was that they get the device out of his head, Louisiana State Police superintendent Col. Mike Edmonson said.
Armed with a .380 semiautomatic handgun and an assault rifle, Ahmed kept the hostages in a small work room where the bank vault is, said Tensas Parish Sheriff Rickey Jones.
During negotiations, authorities were able to get Ahmed on the phone with a friend in Alaska, which was crucial in convincing him to release a female hostage. Jones said it's not clear why he targeted the bank.
The remaining hostages were both shot with a handgun. Edmonson said Ahmed also had a duffel bag containing items he was going to use to torture the hostages.