Search turns up no additional Asian carp in Chicago waterway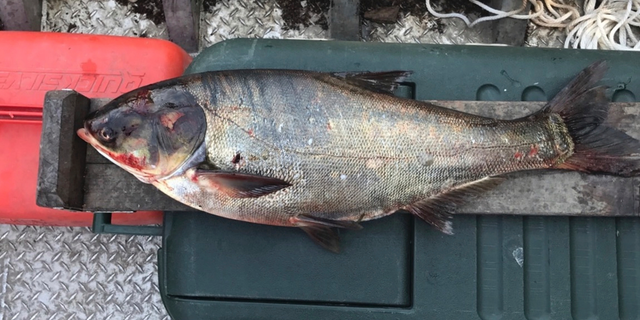 TRAVERSE CITY, Mich. – A two-week search turned up no additional Asian carp in a Chicago waterway where one of the invasive fish recently was found beyond an electric barrier network designed to prevent them from reaching the Great Lakes, officials said Monday.
Teams were deployed after a commercial fisherman's capture June 22 of a silver carp, one of the species native to Asia that have infested the Illinois River and advanced on Lake Michigan. The 28-inch (71-centimeter), 8-pound (3-kilogram) fish was only the second live Asian carp ever caught past the barriers, giving fresh ammunition to critics who question the effectiveness of the government's strategy for protecting the lakes.
Scientists are still examining the fish carcass to determine where it came from, said Kevin Irons, aquatic nuisance species program manager for the Illinois Department of Natural Resources. But he and other officials said they were convinced its discovery just 9 miles (14 kilometers) from Lake Michigan did not mean large numbers of Asian carp had breached the defenses.
"It's definitely an outlier," said Charlie Wooley, Midwest deputy regional director for the U.S. Fish and Wildlife Service. "There's a tremendous amount of relief."
Numerous carp varieties were imported from Asia in the 1960s to cleanse algae from Deep South sewage treatment facilities and catfish farms. They escaped and spread up the Mississippi River and its tributaries.
Of particular concern to the Great Lakes are silver and bighead carp, which gorge on plankton that other fish need. Silver carp spring from the water when startled, a hazard to boaters.
The electric barriers are 37 miles from Lake Michigan. The only other live Asian carp discovered beyond them was a bighead netted in 2010.
Last month's find triggered a search as required under federal-state policy. It involved four teams with devices that stun fish, making them easier to catch, plus three commercial fishing crews who used more than 43 miles (69 kilometers) of gill netting.
They caught over 20,000 fish but no Asian carp, Irons said.
Members of Congress from most states in the Great Lakes region want additional defenses installed at a lock-and-dam choke point in Joliet, Illinois, farther downstream from the electric barriers. Illinois business groups oppose that, saying shipping would be disrupted. The Trump administration has delayed release of a U.S. Army Corps of Engineers report on measures that could be taken there.
Irons said continuing efforts to thin Asian carp populations and block their path toward Lake Michigan are succeeding.
"We think the risk is very low," he said.
The Alliance for the Great Lakes, a Chicago-based environmental group, accused regulators of complacency.
"The finding of an adult Asian carp north of the electric barrier is a warning signal," spokeswoman Jennifer Caddick said. "Asian carp continue to move toward the Great Lakes, yet the administration and government agencies continue to put the Great Lakes at risk by continuing with business as usual."
___
Follow John Flesher on Twitter at http://www.twitter.com/johnflesher