Scrappy Toledo newspaper raises white flag after long battle with Blade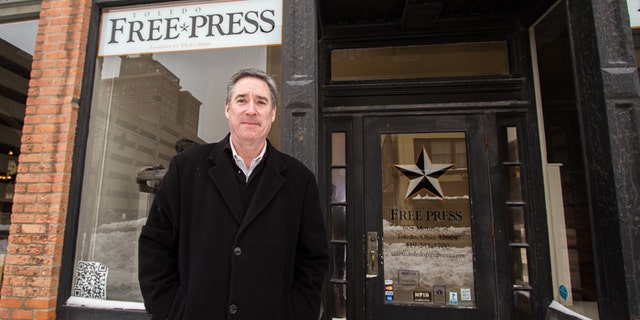 An upstart weekly newspaper that battled the venerable Toledo Blade for the hearts and minds of readers for a decade has published its last issue, the victim, according to its publisher, of an expensive legal fight that had no end in sight.
"Closing hurts, but even more painful would be to have never tried."
"We fought long and hard to make sure this day would never come, but it's with a heavy heart that I must announce Toledo Free Press is closing," publisher Tom Pounds wrote in the paper's swan song April 26 issue.
Pounds said he hated to cave in, but had no choice following his bruising battle with the powerful twin brothers who own The Blade, the 180-year-old daily newspaper where Pounds once toiled. FoxNews.com wrote about the fight in February, detailing how Blade officials accused Pounds of violating a severance deal that forbade him from taking "any action, directly or indirectly, intended to harm the plaintiff, its parent, division, subsidiaries, or affiliates or any of their directors, officers, shareholders, or employees."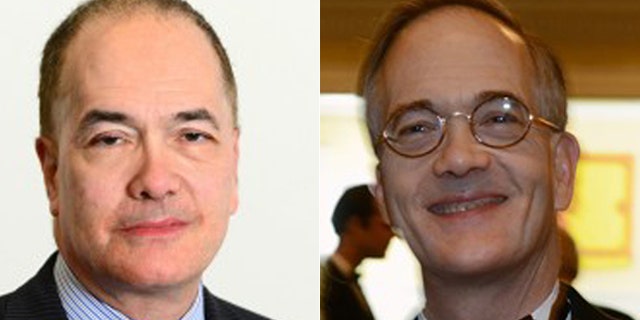 Blade publisher Allan Block and the newspaper's attorney, Thomas Dillon, declined to comment on the matter at the time, but had made it clear in a series of legal challenges that they believed Pounds used his newspaper, which has published articles and cartoons critical of The Blade, to settle an old score with his onetime employer.
Pounds, 56, said doing an honest job of covering the gritty Lake Erie city meant his editorial staff had to engage the town's leading media organization at times. But he said the severance deal applied only to him personally, and not to his editorial staff, which he said had free rein to do its job. Pounds believes the real reason The Blade, which won a Pulitzer prize for investigative reporting in 2004 and has a daily circulation of 120,000, went after his paper is that it came to consider him a competitor. As the legal bills mounted, he finally had to throw in the towel.
"In the end, while delivering news is a right, it is also a privilege, one that we can no longer afford to provide," Pounds wrote.
Pounds said 10 full-time employees, as well as dozens of writers, paper carriers, artists and others will be affected by the closing.
At its peak, the conservative-leaning Free Press boasted a circulation of 72,000 and was named "Ohio's best weekly" five times by the state chapter of the Society of Professional Journalists. But the weekly got under the skin of Allan and John Block, the Toledo-born twin grandsons of legendary newspaper publisher Paul Block and the sole owners of the company, when it took shots at what it considered the Blade's liberal bias. The weekly tweaked the bigger paper for planting a "firm kiss to [President] Obama's backside" in 2008, when it published a front-page photo of the president with John Block following a meeting with the Blade's editorial board. And a 2009 editorial cartoon in the Free Press that implied the brothers were blocking job-creating development in the struggling city of 282,000 struck a nerve.
"That was the last straw for them," Pounds said. "They went ballistic."
The Blade originally sued Pounds, Miller and the newspaper in Lucas County Court of Common Pleas on Oct. 20, 2011, alleging all three violated Pounds' non-disparagement clause, citing the cartoon as Exhibit A. Two months later, the Free Press countersued, alleging Block Communications was "attempting to exercise prior restraint" on the Free Press, and using Pounds' severance terms "simply as a tool to economically harm" the Free Press and its publisher, and "well beyond the bounds of fair and legal competition."
The battle bled out of the courtroom and into the business community, where, Pounds claims, The Blade threatened advertisers into spurning the Free Press. In one episode that underscored the rancor, a local TV station refused to allow Miller to appear on its air to promote a charity CD that benefited the Make-A-Wish Foundation, reportedly noting that he worked for a "direct competitor" of a "valued partner."
Currently, the two sides are awaiting an appeal of a 2014 ruling by Common Pleas Judge Gary Cook requiring the Toledo Free Press to turn over its financial books and marketing strategy to The Blade. Pounds said he doesn't know if his decision to fold will render that case moot.
"Closing hurts, but even more painful would be to have never tried," he wrote. "This newspaper has been a dream. We have enjoyed offering area readers an alternate voice and relished the challenge of changing the status quo of news reporting in Toledo. By adding to the conversation, we did what we set out to do, and I'm proud of the work we've done."