School bus erupts in flames, killing student and driver in Iowa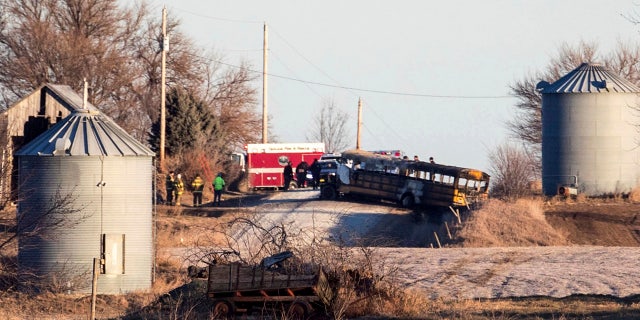 A school bus driver and a student were killed early Tuesday when a school bus caught fire in western Iowa, officials said.
The incident occurred around 7 a.m. after the bus backed out of a farm driveway and ended up in a ditch in Oakland, located 35 miles east of Omaha, Neb.
The homeowner, also the parent of the child, called 911 and said the bus was in flames before fire crews arrived, KETV reported.
The remains of two people were found inside the bus after the fire was extinguished, Pottawattamie County Chief Deputy Sheriff John Reynolds told the Omaha World Herald.
GIRL, 5, KILLED IN GEORGIA SCHOOL BUS CRASH
Authorities identified the driver as Donnie Hendricks, 74, and the student as Megan Klindt, 16, who lived at the farm, according to the newspaper.
Initial reports on the fire indicated as many as 20 people may have been on the bus at the time of the accident, but Pottawattamie County Sheriff's Lt. Rob Ambrose told the Associated Press only the student and the driver were on the bus when it caught fire.
The bus was from the Riverside Community School District, which made grief counselors available Tuesday to help students and staff cope with the incident.
The district, which has about 700 students, held classes on Tuesday but postponed basketball games scheduled for later in the day.
The cause of the blaze is under investigation.
The Associated Press contributed to this report.