School bus driver in crash that killed 2 appears in court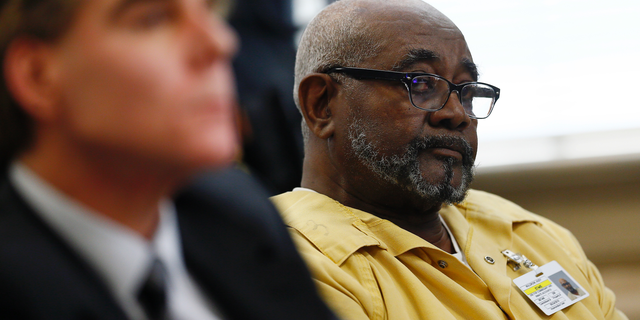 NEWYou can now listen to Fox News articles!
MORRISTOWN, N.J. – Hunched over, shackled at the hands and ankles, and walking slowly, the driver of a school bus that collided with a dump truck on a New Jersey highway last week, killing a student and teacher, appeared in court Friday on death-by-auto charges.
Seventy-seven-year-old Hudy Muldrow Sr. answered simply "yes" when Judge Stephen Taylor asked him whether he understood that he faced two second-degree counts of vehicular homicide that carry sentences of five to 10 years apiece.
Muldrow is set to be held in county jail until next week's hearing on his detention in the May 17 crash between the school bus he was driving and a dump truck that resulted in the deaths of 10-year-old Miranda Vargas and 51-year-old teacher Jennifer Williamson.
His attorney, Matthew Reisig, answered "he just did" when asked whether Muldrow asserted his innocence.
More than 40 other people were injured, some seriously, in the crash, which resulted in the bus's frame being sheared from its wheelbase. Prosecutor Matthew Troiano said he expected more charges related to the other injuries to be filed.
The bus was one of three carrying students and teachers from a middle school in Paramus on a field trip to a historic site in New Jersey, about 30 miles (48 kilometers) away.
Muldrow missed a turn, then merged onto Interstate 80 in Mount Olive, according to an affidavit filed by New Jersey state police. He quickly crossed three lanes toward a break in the median meant for emergency vehicles to attempt an illegal U-turn, according to the document.
Muldrow "disregarded the marked No Turn sign" and turned his bus "to the left in an apparent attempt to gain access to an official-use only access point," according to the document.
It adds that Muldrow turned his bus "so that it was positioned in an almost-perpendicular direction in relation to the lanes of travel" on westbound I-80.
After the hearing, Willie Clark, an elder at Mount Zion Fire Baptized Holiness Church, was in court for Muldrow and said he was the kind of person at Sunday school every week and who would shovel and snow and clear ice in the winter.
"This is a good man," he said. "It's just so unfortunate this happened. ... My heart goes out to the family that lost loved ones. There's no winner in this situation."
Kevin Kennedy, the husband of the teacher who died, and Tony Vargas, the 10-year-old girl's father, sat in the front row during the roughly 15-minute-long proceeding. They briefly hugged each other.
Muldrow had his license suspended 14 times between 1975 and 2017, mostly for administrative reasons, according to state motor vehicle records. The most recent license suspension was in December for failing to pay parking tickets. He also had eight speeding violations between 1975 and 2001.
At the time of the crash, Muldrow had valid driving privileges, a valid commercial driver's license and a valid school bus endorsement, according to the Motor Vehicle Commission.
David Fried, the Vargas family attorney, said the family isn't ready to speak to the public. He said the family is distraught that Muldrow was able to drive, given his record, and added that he intends to sue the Paramus Board of Education and Paramus Borough.
Messages left with the town and board of education were not immediately returned.
The family wants there to be "justice" for all the families involved, Fried said.
A funeral was held Thursday for Williamson in Paramus. Vargas's funeral was Monday.