Saudi air force sergeant guilty in child sex assault case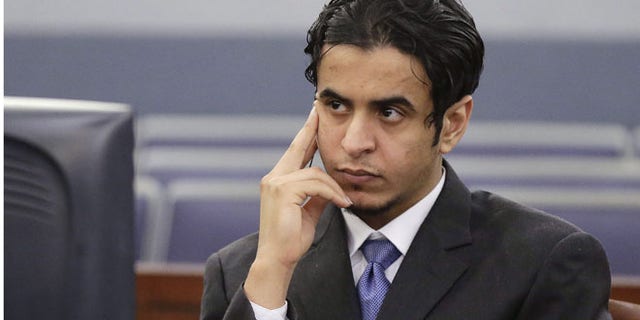 A jury found a Saudi Arabian air force sergeant guilty on Wednesday of sexually assaulting a 13-year-old boy at a Las Vegas Strip hotel last New Year's Eve.
Defendant Mazen Alotaibi showed no emotion as the verdict was read in Clark County District Court.
He could face a sentence of 35 years to life in prison. Judge Stefany Miley scheduled sentencing for Dec. 16.
Prosecutors said the 24-year-old air force mechanic forced the boy into sex in a bathroom at the Circus Circus hotel.
Alotaibi didn't testify at trial. He told police the boy consented to sex for marijuana or money.
His defense lawyer said Alotaibi was too intoxicated after drinking all night at a strip club to know if he was doing anything wrong.
Nevada state law says a child under 16 can't give consent.
"We're very happy with the verdict," prosecutor Jacqueline Bluth said. "We didn't believe this was consensual and that the defendant was drunk."
Jurors began deliberating Tuesday, after closing arguments. The trial featured five days of testimony in Clark County District Court.
Alotaibi was convicted of six felonies and one misdemeanor. He was acquitted of two lesser counts involving lewdness.
He has been held for more than nine months at the Clark County jail in Las Vegas on $1.7 million bail.
The boy testified that he was waiting to go to breakfast with a friend when he approached Alotaibi and other men early Dec. 31 on their way to a sixth-floor room at the Circus Circus hotel-casino because he smelled marijuana on their clothes and wanted pot.
The jury heard that Alotaibi smoked marijuana with the boy outside the hotel and asked the boy for sex. Alotaibi was seen on elevator surveillance video leaning down and apparently kissing the boy's neck on the way to the hotel room. The boy is seen running back to the elevator about 30 minutes later.
In a hotel room bathroom, Alotaibi blocked the door, offered the boy $150 then doubled the amount, and forced him into oral and anal sex, the boy testified.
The Associated Press is withholding the boy's name because of his age and the nature of the case.
A man who was traveling with Alotaibi testified that he knocked several times on the locked bathroom door while Alotaibi and the boy were inside, but they didn't come out.
Bluth told the jury that Alotaibi wanted sex and wouldn't take no for an answer.
Defense attorney Don Chairez maintains that Alotaibi didn't need to take the witness stand because the state didn't prove its case.